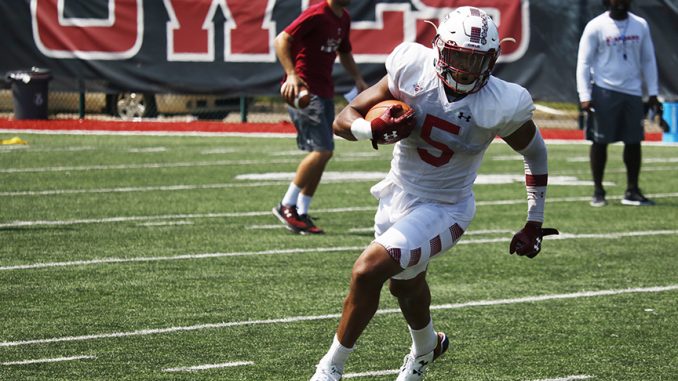 Austin Jones is focused on one thing: getting back to full healthy.
The senior kicker is dealing with soreness from an ACL injury he suffered on a kickoff return against Memphis last season. Sophomore kicker Aaron Boumerhi replaced Jones after the injury and finished the season 15-for-17 on field-goal attempts. Jones is no longer listed on the 'Above the Line' depth chart leading up to Temple's (2-3, 0-2 American Athletic Conference) game against East Carolina (1-4, 1-1 The American) on Saturday in North Carolina.
Coach Geoff Collins said it could be "awhile" before Jones returns to game action.
"My body isn't quite there yet," Jones said. "I know that. The trainers know that. So I'm just trying to get back."
Jones said he participated in a scout-team kickoff on Tuesday, but he didn't attempt any field goals in practice. He added that he was "fighting through some pain" earlier in the season.
Collins said at the start of the season Temple would rotate kickers based on the distance of each kick. Through five games, Jones is 4-for-5 on field-goal attempts, while Boumerhi is 5-for-7.
Jones hasn't attempted a field goal longer than 37 yards, and Boumerhi has attempted every field goal of 40 yards or more.
Boumerhi made a 41-yard kick and a 29-yard kick in Temple's 20-13 loss to Houston last Saturday.
Kirkwood says Temple can't look beyond East Carolina
Redshirt-senior wide receiver Keith Kirkwood has recently been dealing with a nagging injury. He said he's "banged up," and he declined to specify the injury.
Kirkwood has only hauled in one catch for 15 yards over the past two games, but he said the injury hasn't affected his performance.
"It's just being in the right spot for the right play at the right time," Kirkwood said. "[This offense is] not specifically meant for one type of dominant receiver. We have so many great receivers that we all can play, so I'm not really worried about stats… or the future. I'm just worried about the now."
Kirkwood said big points of emphasis heading into this week's game against East Carolina is getting off to a fast start and finishing in the red zone.
Through the first three games, Temple scored on nine of its 10 red-zone opportunities. Five of those nine scores were touchdowns.
In its first two games in The American, the Owls are 2-for-3 in trips to the red zone. Temple's offense has only scored one touchdown in the past two weeks.
East Carolina is allowing 50.6 points per game, which ranks 128th out of 129 teams in the Football Bowl Subdivision. But Kirkwood said the Owls shouldn't take the Pirates lightly.
"You can't look to come out thinking you're just going to blow an opponent out," Kirkwood said. "Every single quarter is going to be a battle. You can't look at the scoreboard, and you gotta finish in the fourth quarter."
With Gardner out, Williams has an opportunity for reps
Redshirt-sophomore wide receiver Travon Williams took his first carry of the season for 11 yards and a first down during the fourth quarter against Houston last Saturday.
He didn't have any other carries, but Williams could see more touches throughout the season because of junior running back Jager Gardner being out with a knee injury.
"I'm kind of the coach's ace in the hole," Williams said. "So [junior running back Ryquell Armstead] and [redshirt-junior running back David Hood] they were gassed, so they threw me in there to get them a break, and luckily I made a good play.
Prior to his lone carry against Houston, Williams had two rushing attempts last season for one yard. He also averaged 21 yards on three kickoff return attempts in 2016.
Williams played high school football at New Foundations Charter School in Holmesburg, where he had more than 500 yards from scrimmage during his senior season.
Redshirt-senior offensive lineman Cole Boozer said Williams is a versatile piece to Temple's offense.
"He can play receiver, he can play running back, I think he's a great player," Boozer said. "I'm sure coach is going to utilize him to the best of his abilities."
Injury updates
Collins doesn't specify details on players' injuries, but he provided updates on a few players' potential availability for Saturday against East Carolina.
Collins said along with Jones and Gardner, senior defensive back Cequan Jefferson, redshirt-sophomore offensive lineman Jovahn Fair and redshirt-sophomore linebacker Jeremiah Atoki are all injured. He said Fair and Atoki should be back at some point this season, but Jones, Gardner and Jefferson could be out for an extended period of time.