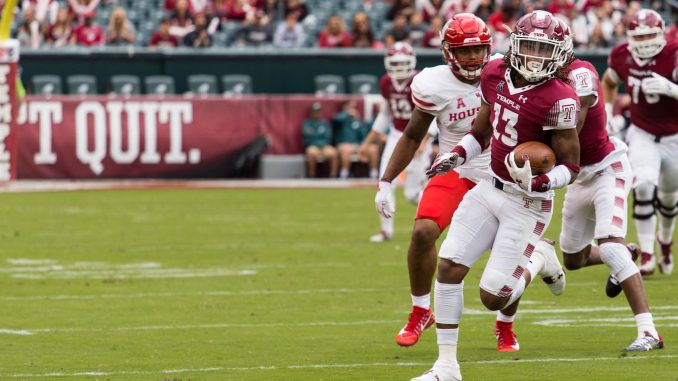 With less than five minutes left in the first quarter on Saturday, Houston sophomore defensive tackle Ed Oliver left the game with a knee injury and didn't return, leaving the Cougars to replace the 2017 Associated Press Preseason All-American.
Without Oliver, Houston still contained Temple's rushing attack until the second half.
The Owls (2-3, 0-2 American Athletic Conference) ended the first half with negative eight rushing yards on 12 carries before running for 150 yards in the second half of their 20-13 loss at Lincoln Financial Field.
"We knew we were just really, really close in the first half from really breaking some big ones, and then it all came together in the second half in the run game," coach Geoff Collins said.
Temple started its first third-quarter drive with four carries for 41 combined yards from redshirt-sophomore quarterback Logan Marchi and junior running back Ryquell Armstead.
Then Temple ran the ball on four of the first five plays of its next offensive series.
Redshirt-junior tailback David Hood carried three times for 29 yards before Armstead had a 20-yard run to move the Owls into the red zone. Hood ended the drive with a touchdown on fourth-and-goal on the first play of the fourth quarter.
As they tried to make up their fourth-quarter deficit, the Owls ran the ball on key third-and-fourth-down plays. On third-and-2 from the Owls' 46-yard line with less than 13 minutes remaining, sophomore wide receiver Isaiah Wright ran three yards out of the wildcat formation. Marchi converted a fourth-and-2 four plays later.
Marchi gained 31 yards on run plays, but he finished the day with a net of seven yards because of a 24-yard sack he took in the first quarter.
"When he's out there running around, it gets him going a little bit more too," Collins said. "So we did some more quarterback run game. Obviously, they were giving us the reads where we were handing it off, but if they had the D-end jet upfield, we had some things to counter off of it."
With just less than two minutes left and Temple trailing by seven, the Owls faced third-and-10 from their own 42-yard line. Marchi pitched the ball to his left to Hood, who ran for no gain. Marchi overthrew Armstead on the next play, and the Owls turned the ball over on downs.
Temple started Saturday averaging 69.8 rushing yards per game, which ranked 127th out of 129 Football Bowl Subdivision teams. As the Owls look for a more productive rushing attack, they'll be without one of their tailbacks. Junior Jager Gardner did not play against Houston and will miss the rest of the season with a knee injury, as first reported by WHIP Radio's Tom Hanslin.
Gardner averaged 5.8 yards per carry as a freshman and ran for two touchdowns last year. He only had two first-half carries on Sept. 21 against South Florida. Offensive Coordinator Dave Patenaude said the team will use Hood and redshirt-sophomore wide receiver and running back Travon Williams more in Gardner's absence.
Hood carried the ball eight times for 53 yards on Saturday. He recorded his highest rushing output since his 61 yards on Nov. 21, 2015 against Memphis. Williams had his first carry of the season. He got a first down on an 11-yard sweep around the right end late in the fourth quarter.
Wright didn't have any carries against South Florida or the University of Massachusetts on Sept. 15. He went 2-for-3 on third-down wildcat runs on Saturday. Wright carried the ball six times and led the Owls in receiving with five catches for 53 yards.
"You have to be able to go in and evaluate who is making plays for you, what's going to give you the best opportunity," Patenaude said. "[Wright] had done that through the first few weeks and so we tried to expand the package for him."
Collins said the offensive line felt "embarrassed" after Temple ran for negative four yards against South Florida. Temple had its best rushing performance of the season on Saturday, redshirt-senior guard Adrian Sullivan said.
"It was exciting to see the second half, how we were able to run the ball, move the ball down the field and that's the offense we want to be and that's the offense we're going to be," Marchi said. "So being able to have guys see that's what we can do, it's exciting moving forward."