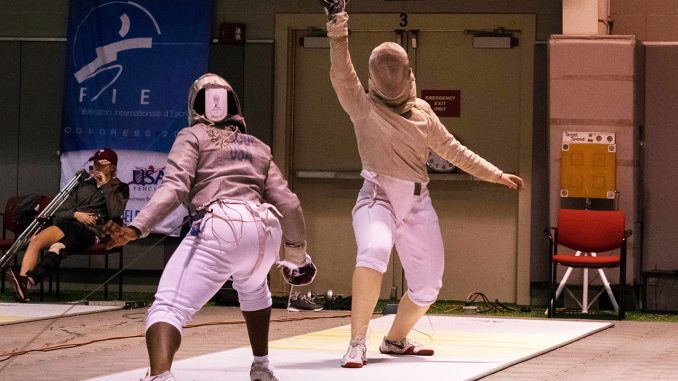 Before coming to Temple, juniors Jessica Rockford and Blessing Olaode were intense rivals.
The two sabres are both from North Jersey. Rockford attended Livingston High School, and Olaode attended Columbia High School in Maplewood. The two schools are only about 20 minutes apart, so whenever their varsity fencing squads met, it was highly anticipated, Olaode said.
"This is probably one of the biggest rivalries I have been a part of," Olaode said. "We saw the best competitor out of each other all four years of high school. We had some intense bouts, and I think having that experience helped us become teammates because we have seen how big this sport is for both of us firsthand."
The two are the oldest members of Temple's sabre squad, and Olaode is the squad leader.
"Me and Blessing do a great job of playing off of each other," Rockford said. "She brings the vocal energy to hype people up. I try to embrace the underclassmen and help them out with constant support."
"I try to show love with teammates," Olaode said. "I love expressing my emotion. Me trying to hype up my team is me showing my support for them."
At first, it was "a little weird" being on the same team as Rockford, Olaode said, but that feeling quickly left as the fencers fully transitioned to the next stage of their careers.
Olaode and Rockford try to apply the same intensity from their high school bouts every day at Temple.
"I love expressing my emotion. Me trying to hype up my team is me showing my support for them."
BLESSING OLAODE
JUNIOR SABRE
Rockford said maturity is the biggest thing she learned since coming to Temple. Coach Nikki Franke said Rockford has "really learned how to keep her emotions in check."
"It helped her develop well," Franke said. "She still has to work in some areas, but she brings it every day…so I have no doubt she will be able to continue to improve."
Olaode and Rockford have combined for 74 wins at the end of the dual meet season. The Owls' next big meet is the NCAA Mid-Atlantic/South Regional on March 10 in Easton, Pennsylvania.
Olaode reached either the semifinals or finals of the regional sabre competition in the past two years. She placed 11th as a freshman and finished 15th as a sophomore.
As a freshman, Rockford finished with a 37-16 record and placed 12th at the NCAA Mid-Atlantic/South Regional. The following year, she posted a 43-24 record and finished 34th at regionals.
Despite placing lower as a sophomore than she did as a freshman, Rockford said she felt she hadn't regressed. She said she has been happy with her ability to face challenges she has encountered every year.
"As I got older, I realized that there are so many bouts, you're going to win a lot and you are going to lose a lot," Rockford said. "I knew if I could just focus on taking in every moment and just try and learn from it, it is all about trusting the learning experience for me. You can't become really good just after one day."
Win or lose, Rockford and the rest of the team will have Olaode's support. She is always first to speak in team huddles and often pumps up the team with song lyrics or motivational quotes, Rockford said.
"We have like a good parent, bad parent dynamic going on," Olaode said. "I'm the bad parent because I like to be really loose with the girls and sort of playful. But Jessica is making sure people are doing the right things, and they are at the right place. I think the way we coexist is really helpful to our success."