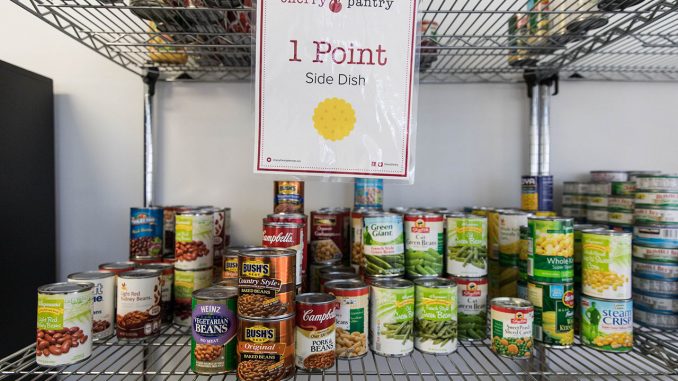 Student organizations from the Fox School of Business started a food drive on Monday that will run through Friday for the Cherry Pantry.
Students can donate food from 9 a.m. to 3 p.m. in the Alter Hall atrium.
The Cherry Pantry, a food pantry open for all students, opened on Feb. 19. The pantry aims to combat food insecurity on campus and allows students to take food anonymously for free.
People are free to stop by Alter Hall and donate non-perishable food items like pasta, granola bars, rice, crackers, canned fruits and vegetables and juice.
Four student organizations that organized the food drive: Temple University Business English Lingua Franca, Fox Professional Speakers, Fox Accounting Association and the Temple chapter of the American Statistical Organization.
Matt Shade, a sophomore statistical science and data analytics major and AmStat community service chair, said it was important for his organization to get involved in the food drive because food insecurity is "a problem with a simple solution."
"There are so many people that will benefit from Cherry Pantry and it means a lot to me that AmStat is getting involved," Shade said. "If we can be a part of something that will benefit the Temple community, it means even more."
Laurie Fitzpatrick, a professor of marketing and supply chain management, has worked closely with the student organizations to help organize the food drive.
She said she got involved with the Cherry Pantry by donating food as soon as it opened.
Fitzpatrick added that she experienced food insecurity as an undergraduate fine arts student at the University of Tennessee at Knoxville. This experience inspired her to help out with the pantry.
"Something like Cherry Pantry would've helped me a lot, so I'm really thrilled to be able to help now," she added.
Fox has previously hosted successful food drives for Philabundance, a Philadelphia food pantry, Fitzpatrick said.
Michelle Martin, an administrative manager in Student Affairs and an adviser for the Cherry Pantry, said there have been campus-wide food drives at athletic games since the pantry opened, but there hasn't been a week-long drive.
University Housing and Residential Life hosted a food drive event to benefit the pantry on Monday, and the Residence Hall Association will host a drive in April, Martin said.
In the first two weeks of its February opening, the pantry was used by three to five students per day. In the past few weeks, however, that number has increased to five to 10 students, Martin said.
"For being such a new pantry, those are good numbers that suggest that the word is out there and that students are starting to be aware that they can use it as a resource," Martin added.
"So far, we've been getting a lot of donations, and some of that may be because we're such a new pantry and people are really excited about it," she said. "Hopefully, we can continue to have the same enthusiasm about it beyond the first month or two of it being open."
The Cherry Pantry is open for student use on Tuesdays and Wednesdays from 1 to 5 p.m. and Thursdays from 4 to 8 p.m. People can donate non-perishable food items directly to the pantry during these times and on Mondays from 10 a.m. to 1 p.m.