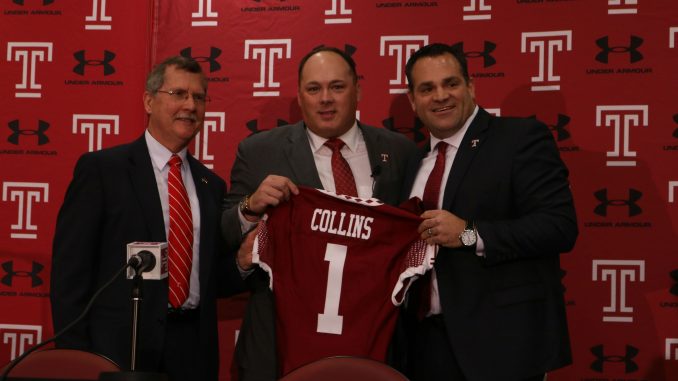 Even though his voice has a southern twang to it, don't be fooled. Geoff Collins has Pennsylvania roots.
He was born in 1971 and grew up near Atlanta, but when he went to the Omni Coliseum to watch NHL games, he wasn't cheering for the Atlanta Flames. Collins instead rooted for the Philadelphia Flyers, even if people threw stuff at him, he said.
Collins liked the physicality and toughness of the 1970s Broad Street Bullies led by Hockey Hall of Famer Bobby Clarke. When he played middle school basketball for his dad — a big fan of former Temple men's basketball coach John Chaney — Collins won the Floor Burner Award, given to those who hustled and gave a strong effort.
He wants to bring the same attitude to North Broad as the Owls' new head football coach.
"It's aggressive," Collins said of his style. "Protecting the ball on offense, creating turnovers on defense, flying around aggressive, up in people's face press coverage, taking shots down the field. That's what we're all about."
"Toughness. That's what this place is about." ~Geoff Collins pic.twitter.com/nwojVETPjf

— Temple University (@TempleUniv) December 14, 2016
Collins spent the past two seasons as the defensive coordinator at the University of Florida. The Gators ranked eighth in the Football Bowl Subdivision in total defense in 2015 and is ranked sixth this year. Before beginning his tenure in Gainesville, Florida, Collins spent four years at Mississippi State University, where he earned the nickname 'Minister of Mayhem' from an assistant sports information director. In his final year with the Bulldogs, he helped Mississippi State to its first 10-win season since 1999.
Collins was a finalist for the Broyles Award, given to Division I's top assistant coach, when he was the defensive coordinator at Florida International University in 2010. Through his career he has coached players who went on to the NFL, including Fletcher Cox, a defensive tackle for the Philadelphia Eagles.
Provost JoAnne Epps, trustees William Mills and Drew Katz and university president Richard Englert, were among those who met with Collins. Those who met with him unanimously gave their approval of the hire, university spokesman Ray Betzner said after Tuesday's Board of Trustees meeting.
"I came away from our conversations convinced that you are a caring person," Englert told Collins at the podium at Wednesday's press conference. "You care about the student-athletes you mentor. You care about academics. You care about having a close collaboration with every part of the university. You care about Temple's mission, and you care about high standards, integrity and doing the right thing in the right way without cutting corners. You are the right person at the right time at the right university."
"I wanted someone who knows how to win," Athletic Director Pat Kraft said. "Someone who's been through winning and seen the process. Someone that understands what it takes to win at the highest level. I wanted someone that wanted this job. Didn't want a job. Wanted Temple's job. And we found him in Geoff. So I'm very proud to have Geoff here with us."
Collins' coaching journey also took him to Albright College, where he was the defensive coordinator in 1997 and 1998. He worked alongside former Owls' coach Matt Rhule, who was the linebackers coach in 1998, and former Temple associate athletic director Sean Padden, who was the defensive line coach for two years under Collins. He said Rhule is one of his closest friends.
Collins said he still has ties to high school coaches in the area, some of whom are former players at Albright. While he was a graduate assistant at Georgia Tech, Collins asked to recruit players. The first year he wasn't allowed to, but the second year, he said he was told there were six target states and Collins could have the other 44. Georgia Tech signed recruits from 11 states from the Class of 2001, including New Jersey, Colorado, California, Utah and Minnesota.
Collins said when people found out that he would be the new head coach, he received texts and calls from people who wanted to get involved. He said he had almost 500 messages on his phone before Wednesday's press conference. When he chooses his staff, he'll be looking for people who can recruit well.
"I've prided myself wherever I've been to be able to recruit anywhere in the country, recruit anybody in the country so that's not going to change here," Collins said. "We're just going to get some more coaches that have a like-minded approach to that and we will be relentless recruiters."
"He's one of the best recruiters in the country," Kraft added. "He's been up here in his other stops. He won't boast about it, but he can recruit anywhere and everywhere. And recruiting is relationship building. Recruiting is getting trust. Recruiting is the product that you have. He's got everything you need. He will recruit."
Collins will be tasked with continuing Rhule's success, which includes winning two straight American Athletic Conference East Division titles and posting back-to-back 10-win seasons and reaching back-to-back bowl games for the first time in program history. Kraft said he wasn't surprised by the excitement surrounding the job, and interim coach Ed Foley said the next person will get to work with more talented recruits than in years past.
As the Owls prepare for their Military Bowl matchup against Wake Forest University, Collins will be at the practice facility at Edberg-Olson Hall to make observations and meet players, but said he'll take a hands-off approach. Then it'll be his time in January.
Collins said when he was 16 years old, he read former Cleveland Browns' head coach Sam Rutigliano's book "Pressure." The book inspired him to become a coach after his playing career. He said he always knew he was going to be a head coach, but was waiting for the right fit.
"We found the right guy," Kraft said. "We're going to keep this going."
Evan Easterling can be reached at evan.easterling@temple.edu or on Twitter @Evan_Easterling.