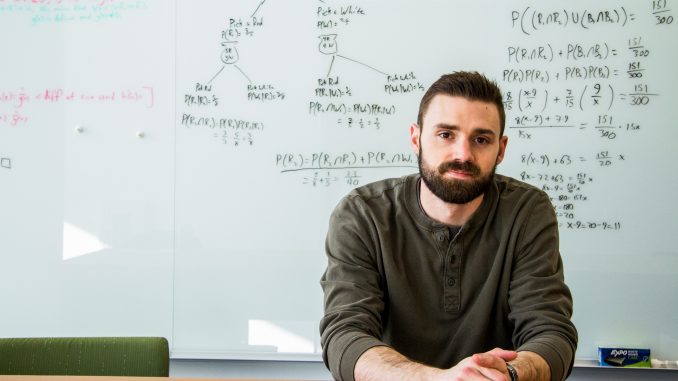 When Brian Thibodeau was graduating high school, he didn't have the grades for – or the interest in – furthering his education.
But Thibodeau always had a passion for flying.
"I wasn't focused during or after high school to go to college and become a pilot," the Bucks County native said.
Thibodeau didn't realize that just 10 years after graduating from high school, in 2014, he would be awarded the Science, Math and Research for Transformation (SMART) scholarship created by the Department of Defense. The award encompasses a full ride to his master's program at Temple, $33,000 annual stipend, paid summer internships and funds for health insurance and textbooks.
After high school, Thibodeau attended Bucks County Community College for two years. The recent undergraduate of Temple engineering decided to enlist in the air force when he was 21.
 "If I couldn't be a fighter pilot, I decided I would work on planes and be around them," Thibodeau said.
 Thibodeau began working on Seattle's McChord Air Force Base in 2008, where he worked with planes all day, mostly on systems that protected pilots from getting shot down.
"Working with some of those electronic systems really captured my attention," the 28-year-old engineering student said.
 On a rainy Seattle day, Thibodeau said he watched a physics documentary titled "Particle Fever," which discusses the complex Higgs particle. Thibodeau said this was his "transformative moment" into furthering his education of math and physics.
The McChord base worked closely with a local community college and offered classes right on the base.
In January 2008, Thibodeau started taking pre-algebra courses and worked his way up to calculus for the remaining years of his enlistment.
Thibodeau wasn't without a busy schedule during this time.
"I would go to class at night, work all night on planes, and then go to another class in the morning," Thibodeau said.
At the end of his enlistment, Thibodeau believed he was going to get an opportunity to work on an air base in Japan, but he did not get the assignment. He decided to go back to school full-time with his GI benefits.
The engineering student then moved home with his parents and started attending classes at Temple in January 2011.
Because several of his credits transferred, Thibodeau only needed three years as an undergraduate.
The engineering department sent out an email during this time looking for undergraduates to work on a project called Robots Utilized for Undergraduate Study (R.U.F.U.S).
"The project was to develop a telepresence robot so that students who wanted to take a tour of the campus could log on to a website and basically drive around this robot," Thibodeau said.
During his second semester in Fall 2011, he took a Circuits II class instructed by Dr. Li Bai, who had a research grant with the navy in Philadelphia and hired Thibodeau as a sophomore to help with R.U.F.U.S because of his military experience.
"He never gave me an excuse of why he could not do a task on time," Bai said in an email. He had good analytic skills as I found out when I taught him."
The duo submitted their research in Summer 2012 to the sixth annual International Symposium on Resilient Control Systems. Bai and Thibodeau went to the conference in San Francisco to present their work.
"I was very nervous, especially being an undergraduate presenting a paper with people who had been doing research for 15 to 20 years, but it was a great experience," Thibodeau said.
After being accepted to the conference, Thibodeau decided he would attend graduate school for engineering.
Bai suggested Thibodeau apply for the SMART scholarship, which the Churchville, Pennsylvania native said was exactly what he wanted to do: research and development for the military.
The engineering student received a phone call in May 2014 from the Wright-Patterson air force base in Ohio, which was interested in hiring Thibodeau as an intern, he said.
"I said absolutely because they are the headquarters for air force research and development," Thibodeau said.
While working at Wright-Patterson in June 2014, he received a Summer 2015 internship offer from the Eglin Air Force Base in Florida, a base focused on design and implementation. Thibodeau will work there this upcoming summer and, after graduation, will work with them for two more years, he said.
Later in June, he was informed that he received the SMART scholarship.
Thibodeau said he never thought he would be awarded because of the competition from other schools. But he gives credit to his military experience and the network he developed from opportunities given to him by Bai.
"Temple has a lot to offer to science and engineer majors, so to get this scholarship really promotes the department and demonstrates the capabilities of the professors and the students," Thibodeau said.
After graduation, Thibodeau will work at Eglin until 2018. In regards to research, the electrical engineer would like to work on investigating compressed sensing, which seeks to reduce the amount of data needed to read signals. Thibodeau also hopes to apply that research to military radars.
 "I never thought I would end up where I am right now," Thibodeau said. "It's going to be another good 10 years."
Emily Scott can be reached at emily.ivy.scott@temple.edu