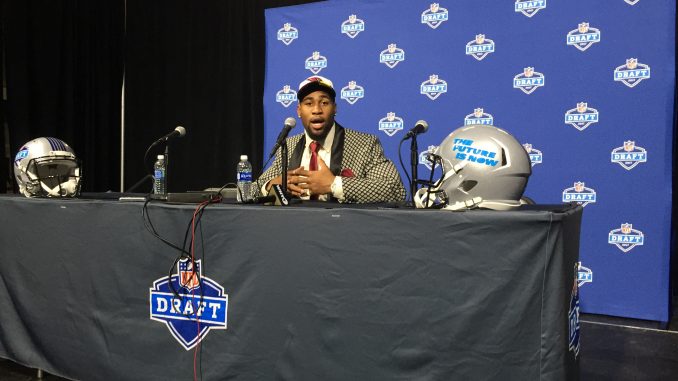 Haason Reddick strode down the steps outside the Philadelphia Museum of Art wearing a patterned black and white jacket and a tie and pocket square that nearly matched the red carpet.
He won't have to change the colors he wears for a while. The Arizona Cardinals picked him 13th overall in the first round of the NFL Draft on Thursday. He will return to Arizona, where he spent two months working out before the NFL Scouting Combine in February and March. Reddick will play for coach Bruce Arians, who coached Temple from 1983-88.
Arians coached the Owls' first two first-round picks in program history — offensive lineman John Rienstra, who was selected ninth in 1986, and running back Paul Palmer, who was the 19th overall pick in 1987. Now he gets to coach the fourth at the professional level.
Reddick said it is a "generational" line for Temple. Palmer coached him as an assistant at Haddon Heights High School in New Jersey.
"To play for a fellow Temple guy, that's special," Reddick said.
"Something special is really brewing at Temple, and I would advise a lot of people to open up their eyes and watch what's going on," he added.
Reddick, a former walk-on, is the third defensive player the Cardinals have drafted in the first round in the last four years. His draft stock rose from projected third-to-fifth-round pick to consensus first-rounder after his performances at the Senior Bowl and combine.
Moments after walking across the stage on the Benjamin Franklin Parkway and putting on a Cardinals hat, he said he "never saw this coming" and "it's still sinking in." That it happened in Philadelphia, the city just across the Delaware River from his native Camden, New Jersey and where he played college football, made it more special.
"It meant a lot, especially to hear the uproar from the crowd when my name got called," Reddick said. "I mean, that was beautiful. I didn't know it was going to be that loud."
On Wednesday, Reddick said he met with 13 to 16 NFL teams. The Cardinals were his last visit, he said. He'll join a Cardinals defense that allowed the second fewest yards per game and fourth fewest passing yards per game in 2016.
"I'm going to give everything that I have to offer," Reddick said. "Just come in there and work hard, try to be the best teammate, try to be the best player I can be,  try to be a student of a game, try to be the best person to the community, give back to the fan base out there. I'm going to go out  there and try to be a special person for this program."
Evan Easterling can be reached at evan.easterling@temple.edu or on Twitter @Evan_Easterling. Follow The Temple News @TheTempleNews and @TTN_Sports.