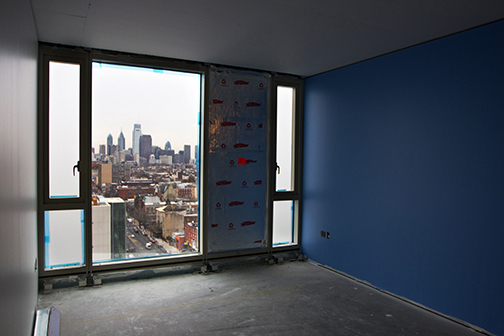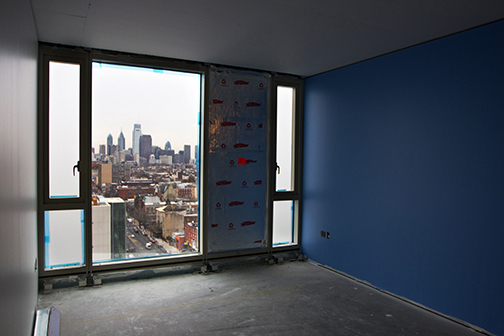 Just before Temple closed for winter break, university officials announced a slew of amenities planned to its new 27-story residence hall which is currently under construction on Broad Street between Cecil B. Moore Avenue and Oxford Street.
Morgan Hall, which is set to open this fall, is comprised of two residential buildings and one dining hall. The $216 million project is expected to add more than 1,200 students to the university's on-campus population.
Morgan Hall North, which sits adjacent to Cecil B. Moore Avenue, will house 24 floors of residential space for returning sophomores, juniors and seniors, while Morgan Hall South will be made up of nine residential floors for freshmen, according to University Housing and Residential Life. Its dining complex will contain an array of food vendors including Auntie Anne's, Starbucks and Tony Luke's.
Officials remarked about some of the amenities residents can expect in the four and five-bedroom suites, which will include 42-inch flat-screen televisions, two bathrooms and a full-size refrigerator.
"[These are] big spaces," James Creedon, senior vice president for construction, facilities and management, said. "We were over there with some folks one day, and someone pointed out that we've all taken our children back to college and you go in there for the first day and you can barely fit in the room, between the parents and the students always bumping into each other. We were all in this room and there were eight of us and there was plenty of room."
Colorful designs will decorate the hallways that lead down to communal living areas throughout the building where students can watch 70-inch televisions.
In the middle of complex, a terrace will be built so students can walk outside of the second floor and eat outside, or walk around the 30,000-square-foot space which will include extensive landscaping and scenery.
There will be two ramps at the corners of the terrace leading right out to campus and Broad Street.
A restaurant is also expected to open at street level, though Creedon said the name of the restaurant hasn't been announced. It will take longer to complete than the hall itself and should be open some time in 2014, Creedon said.
Creedon said the view from the top of Morgan Hall is probably unmatched in the city, and the building is most likely the tallest in North Philadelphia.
"You think about the 26th floor of Morgan Hall and you're a student in one those units up there, your view is second to none. That view is not available anywhere else in the city," Creedon said. "The nighttime view of Center City is spectacular, and to think you're going to have that living in an environment so close to campus, you're just walking across Cecil B. Moore [Avenue], and you're right there into the heart of the campus. I think it's going to be a great place for students to live and people are going to be attracted to it."
Creedon said the building gives the opportunity for older students to live on-campus, as opposed to moving off-campus after sophomore year as many students currently do.
The building is named after trustee Mitchell Morgan and his wife Hilarie, who donated $5 million to the project.
Matthew Hulmes can be reached at mhulmes@temple.edu.