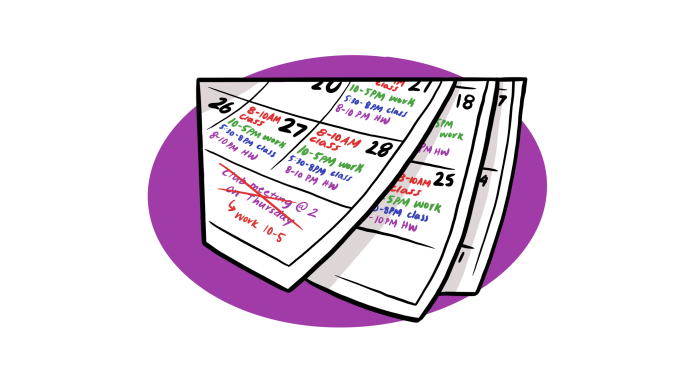 I always looked forward to living the romanticized "college experience" that's raved about in high school and teen movies. College seemed like it would be the time of my life, and I couldn't wait for the promised experiences, like attending campus activities, joining clubs, rushing Greek life and even studying abroad.
Despite my desire to make the most out of my college years, taking advantage of these experiences has been difficult for me because I work approximately 25 hours per week at a retail job while simultaneously dedicating the same amount of time to my classes and homework.
Missing out on the acclaimed experience has caused my mental health to decline, manifesting as constant stress, anxiety and even depressive episodes that make staying focused on my academics nearly impossible.
Balancing school, work and socializing can lead students to ignore basic needs, like sleeping, eating and exercising, which can negatively impact mental health, according to Mental Health America.
Many students have part-time jobs to save disposable funds while in college, but I need to work to support myself. I went to community college for my freshman and sophomore years, during which I lived with my family. I didn't worry about paying rent or tuition because I could rely on state grants to pay my community college's low prices.
Eventually, I saved enough money to move to Philadelphia after two years of community college and started my next journey in pursuing journalism at Temple University. I continued to work, but this time, it was to support myself entirely on my own because my family is unable to.
Last semester, I lived independently from my parents for the first time; I started paying rent, buying groceries and paying for tuition. Although I have financial aid, which is greatly beneficial, I am still solely responsible for paying loans, outstanding balances and any other costs related to school, like textbooks.
When I'm stressed or anxious, I find myself questioning whether I belong at an expensive university like Temple or if I should've chosen a cheaper school and location where working a lower number of hours could be enough to support myself without sacrificing my experience.
Balancing work with my academic life has been an impossible task since I transferred to Temple. I try to squeeze in completing all my assignments when I'm not working, which forces me to sacrifice rest. This makes it difficult to focus, causing me to procrastinate and feel burnt out.
I've also missed out on the essential college experiences many other students get to participate in.
I'm usually unable to attend sports games, club meetings and events that could positively impact my journalism career, like Klein College's Internship and Career Fair which took place while I had to work.
Missing this opportunity made me feel extremely pessimistic about my future. I wondered what's the point of working to be in school if my job keeps me from working on my career. I felt like everything I was doing was counterproductive and pointless.
When I look back at when the idea of the college experience was presented to me, I didn't expect a constant battle with my mental health to be part of it.
Last month, I decided to take advantage of Temple's mental health resources, like Tuttleman Counseling Services, because stressing about my financial situation was preventing me from focusing on my school work, and my grades started falling from As to Cs.
I've attended a few of their skill-based classes, which tackle different issues, like how to cope with stress and anxiety. To fit these classes into my schedule, I try to work on the weekends and go to Tuttleman once a week after class when I can.
Through my efforts to improve my mental health, I've learned to use any free time I can find to participate in activities I both enjoy and find productive for my career and mental health helps me feel like work isn't consuming my life. Although it's hard, working to be at Temple will eventually pay off.
I am far from mastering the balance between school and my work life, but I am proud of myself for being intentional about taking the steps to learn how to cope with my emotions. I'm not able to live the college experience I imagined, but I'm creating my own.