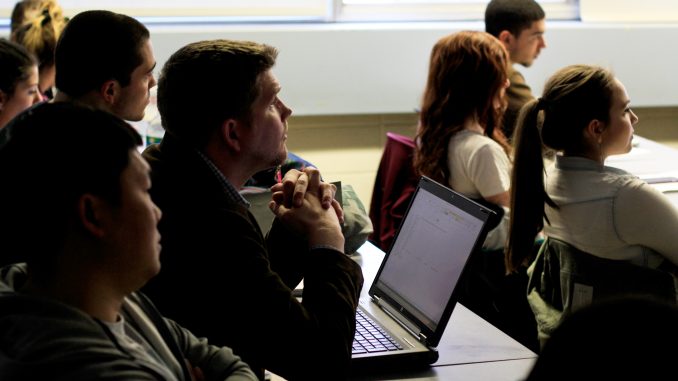 Jonathan Latko teaches Marketing for Sustainable Enterprise, a course that not only gives students real-life experience but helps to grow sustainable organizations and businesses on Main Campus.
The class is designed to teach students how to manage and market a sustainable business.
Latko bases his teachings around the idea of experiential learning – a type of learning that revolves around intellectual and creative engagement and the opportunity to participate in and reflect on hands-on experiences.
Students in the class are separated into groups and assigned to sustainable organizations. This year, the organizations are  the Rad Dish co-op, located in Ritter Hall, Hand-Me-Gown, a graduation gown recycling program and RecycleMania.
The Rad Dish Co-Op, Temple's vegan and organic eatery, is not only operated by students on the front-end, but students from marketing for sustainable enterprise are also helping Rad Dish grow.
Latko's students examine ideas like the triple bottom line, or the effect of the decisions a business makes on people, profit and the environment.
"Businesses, in core definition, should be sustainable – meaning produce profits to be able to invest in the future, hire employees and keep going forward," Latko said.
Latko teaches students that sustainability does more than keep the earth healthy – it keeps a business moving forward.
"We're really looking at, 'How do we keep a company going within its environment and with its people that it can continue on into infinity?' If that's even possible," Latko said.
In Hand-Me-Gown, students recycle used graduation gowns and offer them to graduating students for free. Theresa Smurkowski, a senior marketing major, is currently enrolled in Latko's course and is working to promote Hand-Me-Gown.
"We're focusing on two different initiatives, and one is collecting gowns before the semester is over … and we're focusing on how to get people graduating to give back their gowns," Smurkowski said.
Hand-Me-Gown will operate three donation bins on Main Campus on August 8, when many graduation ceremonies will take place.
Those who choose to donate their graduation gowns will receive 15 percent-off coupons to the Barnes & Noble on Main Campus.
"What's really great about that is you can give up your gown … that you can't really wear again, and with the coupon you can go buy a sweatshirt that reminds you of your time at Temple, but you can actively wear it."
RecycleMania is operated largely out of the Fox School of Business. Students ran paper drives by encouraging and helping professors in Alter Hall to empty unnecessary folders with large amounts of paper that can be recycled.
RecycleMania is also a competition between universities that encourages schools to keep track of and report how much its students and faculty are recycling over an eight-week period.
Latko said he believes working with Rad Dish is a "really awesome challenge" and a great opportunity for his students.
Students working with the Rad Dish Co-Op attempt to drive more students to Rad Dish's social media pages, which currently have a low following, Latko said. The group hopes that if more students are aware of the co-op, more memberships will be purchased.
The group has a specific target market to help maximize Rad Dish's membership, a $25 purchase that allows the member to vote in all of the organization's decisions.
Latko said the membership is similar to being a shareholder in Rad Dish.
"We specifically want business students, because their current members all have similar majors, and having business-minded people on board will bring diversity to their membership pool," said Kelsey Silvagni, a senior marketing major and member of the group encouraging a greater social media presence.
One of the largest challenges Latko said the class presents is its size. Though he is glad to see enrollment increasing, the large class size makes it hard for him to efficiently manage projects students work on, he said.
"I'm here to let you know that there are other ideas and facts out there, and you should be introduced to them if you are going to go out and work in this world," Latko said.
Vince Bellino can be reached at vince.bellino@temple.edu.
Claire Sasko contributed reporting.