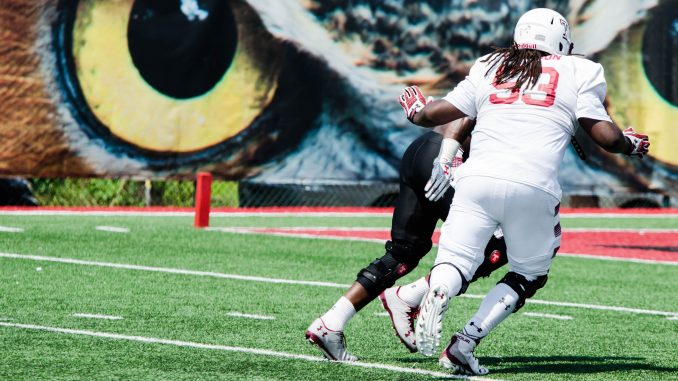 Leon Johnson is willing to do whatever it takes for the Owls to win this season.
"If they tell me to play kicker, I will play kicker," the redshirt-senior offensive lineman said. "Whatever I can do to help this team. Whether it be play left [tackle], right [tackle] or play center, I'll do it. I'm 100 percent for helping this team win."
Last season during practices, Johnson joked with redshirt-senior defensive lineman Sharif Finch about playing on the defensive line.
But now, returning to the position he once played at Bound Brook High School in New Jersey, may become a reality for Johnson.
Johnson has taken reps in defensive line drills during preseason camp, Finch said.
"I'm not going to say he's ready to go, but yeah I think if he hones into those skills, he'd help us, I'm sure," Finch said.
Johnson pitched the idea of him playing on the defensive line to coach Geoff Collins on the bus ride back to Philadelphia from the team's senior retreat in July.
"Coach, just me give me 45 snaps a game at defensive tackle," Johnson said to Collins.
"At defensive tackle? Let's put you at defensive end, and let's roll," Collins replied.
Since the retreat, Johnson has sought advice from his teammates who he faces every day in practice.
Finch told Johnson, who is 6 feet 5 inches tall, to use his length and athleticism to his advantage as a defensive lineman.
Redshirt junior Freddie Booth-Lloyd said Johnson comes to his room every day and asks him what moves to use as a defensive lineman.
"Leon did get a couple snaps at D-line the other day in one-on-one pass rush," Booth-Lloyd said. "He looked very good. He played the defensive end spots. I was like 'OK, we got another big guy on the line with us.'"
At 325 pounds, Johnson would be tied for the biggest defensive lineman on the team with Booth-Lloyd.
Collins has emphasized position versatility since he arrived at Temple in December. He said people looked at him like he had three heads when he initially decided to give redshirt-senior wide receiver Keith Kirkwood reps at defensive end.
Kirkwood's skills were tested at defensive end in April's spring game, where he recorded a sack.
Collins added that offensive line coach Chris Wiesehan has mentioned the possibility of redshirt-senior fullback Nick Sharga coming off the edge as a defensive lineman. Sharga made five starts, four at fullback and one at middle linebacker, during the 2015 season. He was the team's only two-way player until playing strictly on offense in 2016.
"You're never going to know that a kid might have a knack for something unless you do it," Collins said.
But with the Owls losing alumni, Dion Dawkins in April to the NFL Draft and former starting center Brendan McGowan, Johnson might be most valuable starting on the offensive line.
Johnson started all 14 games at right tackle last season, playing through nagging injuries. He underwent surgery on his shoulder, groin and hip earlier this year and didn't participate in spring practice.
It was tough not practicing in the last spring camp of his college career, Johnson said, but he was on Chodoff Field as a quasi-coach helping instruct his teammates during practice. He said it helped him see his mistakes from another perspective.
Johnson enters his final preseason camp getting more reps in practice each day and is eager to contribute on both sides of the ball. But even if he's banged up on the field like he was in the past, his teammates believe Johnson will still play with a purpose.
"He's a hell of an athlete for his size," redshirt-freshman quarterback Anthony Russo said. "We know that no matter when he's out there, he's going to be ready to go and he's going to, whether he's a 100 percent or not, he's going to give it his all. He's going to lay it all on the line from the team."