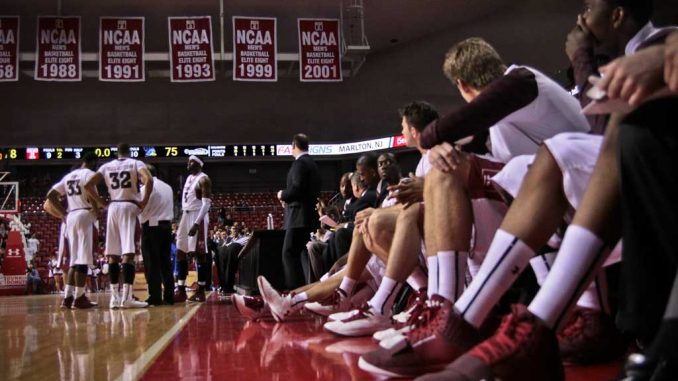 Temple has released a preliminary, incomplete schedule for men's basketball's 2013-14 season.
The Owls mostly know what non-conference teams they will be playing, and with the exception of Villanova, what day those games will be. They also know they will have a home and home with every other American Athletic Conference team. However, no dates or times have been set for those games.
Temple's move to a new conference has not affected any of the city rivalries – it will play the other four Big Five schools. The season opener is at Pennsylvania on Saturday, November 9. Temple hosts St. Joseph's  on Wednesday, December 4 and travels to La Salle on Saturday, January 18. Temple will host Villanova at some point, but the date has not been set.
Temple's biggest non-conference opponent is Texas. The teams will square off on Saturday, December 7 at the Wells Fargo Center. Historically a very strong team, Texas had an off year last season, going 16-18 and losing in the first round of the College Basketball Invitational tournament.
The Owls will also play host to Kent State on Monday, November 11 and Texas Southern on Wednesday, December 18.  They will travel to Towson on Friday, November 15. Temple is also participating in the Brooklyn Hoops Holiday Invitational on Saturday, December 21, when it will take on LIU Brooklyn at the Barclays Center.
The only part of the non-conference schedule that has yet to be determined is the Charleston Classic. Temple will play games in Charleston, S.C. on Thursday, November 21, Friday, November 22 and Sunday, November 24. The matchups have not been chosen, but Temple will play three of the following teams: Alabama-Birmingham, Clemson, Davidson, Georgia, Massachusetts, Nebraska and New Mexico.
The conference schedule is fairly straightforward: Temple will host every conference opponent and will travel to every conference opponent. Those teams are: Cincinnati, Central Florida, Connecticut, Houston, Louisville, Memphis, Rutgers, Southern Methodist and South Florida. The toughest opponent in the conference will be Louisville, the defending national champion.
The American tournament will take place from Wednesday, March 12 to Saturday, March 15 in Memphis, Tenn.
No specific game times have been set.
Click here for the full schedule.
Evan Cross can be reached at evan.cross@temple.edu or on Twitter @EvanCross.