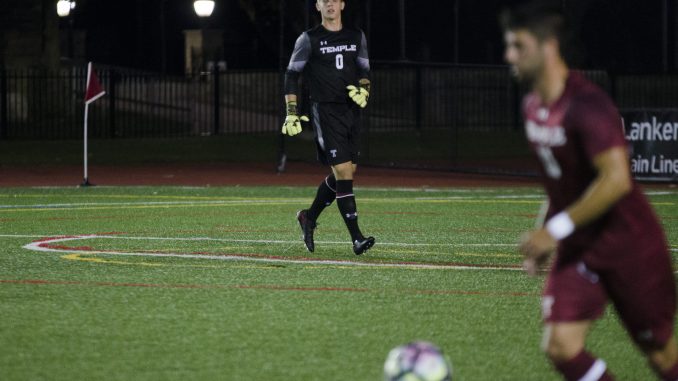 In the three games since the Owls' season opener, they only conceded two goals. They have one win to show for it.
The Owls allowed three goals to St. Joseph's in their loss on Aug. 25. The Hawks played with 10 men for the game's final 55 minutes after senior goalkeeper Greg O'Connell received a red card.
On Sunday night, the Owls team lost to Rider University, 1-0, in overtime. In their loss to Rider, the Owls forced senior goalkeeper David Pastuna to make three saves in the first 20 minutes. The Broncs only recorded two shots on goal in the entire match.
They broke the scoreless tie in the 94th minute.
"I thought the defense was fine," redshirt-senior goaltender Alex Cagle said. "If it takes you [almost] 100 minutes to score a goal, we should be able to do well this season. I don't think our defense is the problem right now, I think we're still working on it fundamentally."
Temple has allowed second-half goals in three of its four games. Matt Crawford's hat-trick goal extended St. Joseph's lead to two goals in the 76th minute. University of Delaware freshman forward Ryan Peterson's goal in the 84th minute on Thursday erased Temple's one-goal lead in an eventual 1-1 draw.
Rider sophomore forward Clement Bourret's goal at the 93-minute, 23-second mark handed the Owls an overtime loss Sunday. Coach David MacWilliams said it was "a soft goal to give up that late in the game," but didn't blame Cagle.
"We need clean sheets," MacWilliams said.
"They played well, but at the end of day we still made two mistakes on the last goal and then all of a sudden it's in the back of our net," he added. "So no matter how well we played, if we don't finish and we make small mistakes like that, other teams are going to score on us."
Temple worked on communication in practices after it played St. Joseph's. It was the Owls' first game without starting defenders Stefan Mueller, Matt Mahoney and Carlos Moros Gracia since 2015.
"There's a huge learning curve there naturally, but I think we're definitely making strides in the right direction," Cagle said. "I don't think communication was the issue today which is good moving forward."
"Our defense is pretty solid and we have the right guys back there," he added. "We just need to tighten up the back line more."