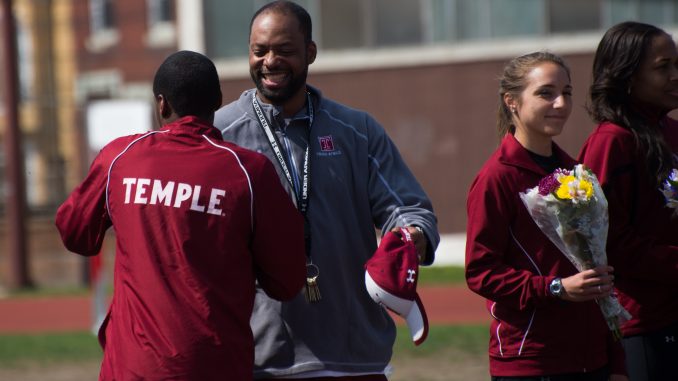 A final, almost fitting seal to a tumultuous up and down 2013-14 track & field campaign found Matt Kaycon's eyes with one glance of his email last Friday.
An email from assistant athletic director Kristen Foley containing an attached memo to team coaches, soon forwarded to their runners, informed all whom it concerned that the team's head coach of six years was resigning effective June 30.
"It was kind of a shock," Kaycon, an upcoming senior steeplechaser, said. "As far as why, I'm still out of the loop."
Mobley's resignation will take effect one day before the men's indoor and outdoor track teams is slated to be eliminated from the university's athletic program. To add insult to an already unwelcome situation for the six-year Temple skipper, Mobley, along with Foley, has been a co-defendant in a harassment law suit involving former Temple thrower Ebony Moore since last summer. 
After a motion was denied last month to drop the claims, the case is likely headed for settlement or trial.
"There had been a lot of things going on with him as of late," recent graduate Gabe Pickett said. "He's had the law suit and how the team's been going in the last couple years, stuff like that. You wonder if the athletic department would make a change, and you hear about this and you just think, 'Wow.'"
"When I first heard I was not surprised I guess, but still a little shocked, too," Pickett added. "He was the constant through my four years here and it was surprising that he was really leaving."
Mobley was hired as head coach of the men's and women's programs in 2008, and oversaw consistent progress in the program that included a women's Athletic 10 Conference Championship in 2010 and numerous NCAA Regional and National individual qualifications.
Mobley could not be reached for comment.
For Kaycon, a veteran of two previous distance coaching changes since his start with the team in 2011, said while he's letting this one play out, he still has questions about the departure like everybody else.
"We all have questions," Kacyon said. "I know everybody I've been talking to, we all have questions and we're wondering why exactly he left. Obviously there are things that go on in a coach's personal life, which no one needs to get into if that's the case."
"There could be any reason."
Andrew Parent can be reached at andrew.parent@temple.edu or on Twitter @daParent93.