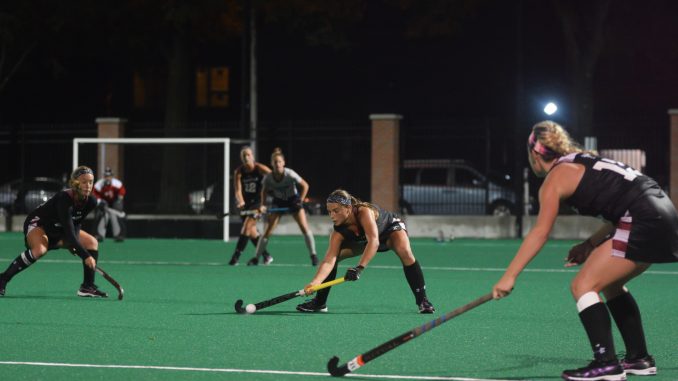 Temple had been waiting for a game like Friday night's 4-1 home win against Georgetown University.
Through the first 10 games of the season, the Owls had only scored 15 goals. Last season, they scored 50 goals in 21 games.
The Owls' offense finally showed signs of life Friday, taking 21 shots on its way to the team's first four-goal performance of the year.
"We had so many shots on goal which is fantastic, and the message at halftime was just to keep chipping away," coach Marybeth Freeman said after the game.
The team (4-8, 1-2 Big East Conference) continued its success on Sunday at Howarth Field, scoring two second-half goals in a shutout victory against the College of the Holy Cross to win its third straight game.
Temple is averaging 14.2 shots and 1.75 goals per game so far. They lost three games by one goal early in their season. Just a few more goals per game may help Temple build a winning record. The Owls rank No. 62 out of 78 Division I teams in goals per game.
Freeman said the strong defenses the team played early in the season made it difficult to even reach the offensive circle. Syracuse, which beat Temple 8-0 in late August, is ranked sixth in defense. Monmouth University and Penn State are ranked No. 10 and No. 12, respectively, in goals allowed per game.
"Look at the number of Top 15 teams that we're playing," Freeman said Tuesday after practice at Howarth Field. "They're Top 15 for a reason."
When Temple does enter their attacking circle, players tend to try for corners rather than taking shots. The team has taken 89 penalty corners, compared to 106 shots on cage.
Corners are an offensive advantage, but Freeman wants them to be a lesser focus for her players. She wants her players to attempt shots as often as possible to create goals.
"We're working on our body placement in the circle, how we can get shots off better, rather than just getting the foul," senior forward Katie Foran said.
Foran emphasized that the team doesn't want to reduce their number of corner opportunities.
"We're trying to not take away from the corners, but get more shots on the cage in addition to corners," Foran added. "She wants us to get as many shots on goal per game as we can."
To accomplish this, senior midfielder Paige Gross said, the team reviews its opponents' penalty corner defense and makes a gameplan to exploit any weaknesses in it.
"Something we have been working on this week is being more aggressive with our shooting and our rebounding," Gross added.
The Owls graduated 10 seniors last year, including eight starting players. Last year's leading scorers were forward and midfielder Alyssa Delp, midfielder Sarah Deck and forward Tricia Light. All three graduated and are no longer with the team.
With the exception of goalkeeper Maddie Lilliock, the only freshman to start all 12 games this season is midfielder Maddie Merton. Merton has scored four goals and an assist, including two goals on Friday. Forward Cristen Barnett has appeared as a substitute in all 12 games. Backer Becky Gerhart has also appeared in every game, starting for eight.
"There's eight new people this year," Freeman said. "It's a completely different game from high school to college. I think that even though that's a big jump, they're doing a job of making that transition."
Junior midfielder Rachael Mueller has scored seven goals so far, and Foran has scored four. With 11 combined goals, Foran and Mueller account for more than half the Owls' offensive production so far.
Merton is now tied for second on the team as a freshman with four goals, following a two-goal performance against Georgetown. Junior forward Hattie Kuhns and sophomore midfield Jessika Daniels have each scored two goals.
"I think Rachael [Mueller] and Katie [Foran] have stepped up in those positions a lot," Gross said of replacing the departed players. "I think our aggressiveness in the offensive 25, we're a lot smarter hockey players this year."
Jay Neemeyer can be reached at jay.neemeyer@temple.edu.