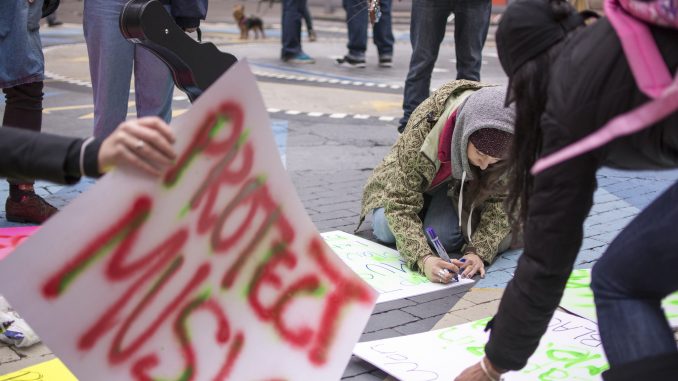 When a new bill from City Councilman Mark Squilla threatened to require every Philadelphia musician to register personal information with the police, Larissa Sapko started an online petition. She didn't think it would receive "more than a couple hundred signatures."
It received more than 15,000 by the end of the week.
"I thought it would be a way for my friends to contact the Councilman, it was more of a unified course of action," Sapko said. "I was hoping the story would get big, but I didn't think my petition would get that big."
The registry of personal information was among several other changes Squilla wanted to make to the 'Special Assembly Occupancy License' section of the city's code. After major protest from musicians, venue owners, promoters and fans, Squilla withdrew the bill and promised he would revisit it with music industry leaders to draft a new, more music-friendly bill.
Squilla also issued a statement on Facebook clarifying that the intent of the bill was not to create a registry, but to close a loophole that allowed nuisance bars which stream music to hold shows without the proper special occupancy licenses.
"The bill now contains a provision that venues should obtain performers' contact information to share with city officials should the need arise," Squilla wrote. "This provision is NOT intended to restrict artistic expression or any kind of entertainment but rather is aimed at addressing public safety and quality of life issues."
"When [Squilla] originally said the purpose of the bill wasn't to create a registry, that really shook me a little bit," Sapko said. "I was like, 'Oh God, what have I done … I don't even know what I'm doing.'"
But after reading through the bill, Sapko realized Squilla's comments were less intimidating than she thought.
"Once you read the bill it says that promoters will have to collect contact information for every musician performing and be ready to submit that to police upon request," Sapko said. "You can call it what you want, but I would still call it a registry."
"While that may not have been the intent, intent doesn't count for as much as effect," she added. "The effect would have been that a lot of people would have had to turn over their personal information."
Sapko is one of many community members who decided to act in response to the restrictive bill. Freshman education major Alex Casper, a promoter of local DIY venues in the city, helped organize a March for Musicians Against Bill No. 160016 protest on Feb. 4. More than 1,000 people joined the event page on Facebook.
"The music community is one of the biggest economic influences in the city," Casper said. "With us having such a large community and a powerful voice I thought this [march] could definitely help out."
"We created the event on Thursday, got the permits, and it completely blew up with how much attention it got through social media," Casper added. "We were limited to inviting 500 people each [to the event page] but with the amount of people who were inviting their own friends, we were able to get 6,000 people invited, 700 people attending, 1,200 people saying maybe."
Once Squilla withdrew the bill, the march was reconfigured as a victory rally. With the mission accomplished, the march drew only about a few dozen people. But it still celebrated the power and voice of the music community, Casper said.
"Obviously when this bill was passed, it was thought that they could push the musicians and the venues around," said John Poole, a local musician. "I don't think this bill was really about punishing those nuisance bars as much as it was … just another way to get a list of people. They want to supposedly get the couple bad people, but it would have been abused."
Poole felt the bill showed a lack of appreciation for the music community and its impact on the city.
"Philly's put out some incredible world-class musicians and it's almost like a joke to them," he said. "I don't feel like the politicians really care about that, there's a real disconnect in the city from the populace to the politicians."
"I think a lot of musicians from around the country are paying attention to what goes on in Philly right now," Sapko said. "The city is a really hospitable environment for music and I think we have a great, active music community who are really genuinely proud of this city and want to see it continue to be a haven for artists."
Emily Thomas can be reached at emily.ralsten.thomas@temple.edu.