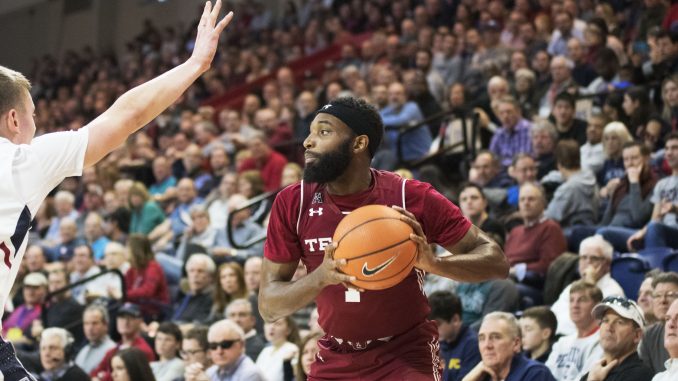 Fran Dunphy consistently can't pinpoint one reason his team has lost second-half leads.
After a 14-1 run in the second half against Penn on Saturday, Temple led by 12 with 14 minutes, 23 seconds left at The Palestra. The Owls (10-9, 2-5 American Athletic Conference) won, 60-51. But not before Penn took the lead with 4:02 left. The Quakers trailed by just one possession until redshirt-senior guard Josh Brown scored a 3-pointer with 46 seconds left.
"We throw it away," Dunphy said. "We don't check it out. We throw up a bad shot. We don't catch it right. We cover the gamut, but again, to survive and move on here to the next challenge, it's a really good win for us against a very well-coached team and we're grateful for it."
Temple has won three of its past four games. All of those games, and six of the past seven, have been decided by key plays in the final minute.
Overall, 10 of the Owls' games have been decided by five points or fewer. Temple is 5-5 in those games with three conference losses. The Owls had a 9-4 record in such games during the 2015-16 season, which ended with their most recent NCAA Tournament appearance.
This season's losses to league opponents in games decided by five points or fewer came against Houston on Dec. 30, Cincinnati on Jan. 4 and Memphis on Jan. 13. Cincinnati and Memphis made game-winning shots with less than one second left at the Liacouras Center.
Cincinnati, which trailed for 32 minutes, 12 seconds, went on a 10-0 run to take a three-point lead with 32 seconds left before making a game-winning jumper. Memphis had runs of 13-0 and 10-0 in the second half to help force overtime.
Houston led by 15 with just more than six minutes remaining in the second half before Temple made a run. Junior guard Shizz Alston Jr.'s potential game-tying 3-pointer missed at the final buzzer.
Saturday's win against Penn flipped an early-conference-season trend. Temple held the Quakers to 28.3 percent from the field and a season-low 51 points to break their three-game winning streak.
"It seems like it's just who we are," senior forward Obi Enechionyia said. "For some reason, we let teams back, which we shouldn't do, but at the end of the day a win is a win. So I'm happy with how we played even though we let them back in a little bit."
Brown's late-game heroics aren't exclusive to Saturday's game against Penn. His hook shot with 1.2 seconds left against Southern Methodist on Jan. 10 broke the Owls' five-game losing streak. Brown made the go-ahead shot with 28 seconds left in Wednesday's win against Tulsa.
Brown also hit a game-winner during his sophomore season and one in his junior season.
"Him and Obi are our captains," Alston said. "I love when they come through in the clutch. Josh has been here the longest, so when games are going down and we need a big shot, he likes to take it. And we trust him in making the decision."
Dunphy said he is excited to move onto the next challenge, which is the Owls' second matchup against Cincinnati. The Bearcats (17-2, 6-0 The American), who are ranked No. 12 in the Associated Press poll, have won 10 games in a row.
They've also won 36 straight home games, which is the longest streak in Division I. When Temple beat Southern Methodist earlier this month, it broke the Mustangs' streak of 33 home wins in a row.
Temple beat Cincinnati twice, including once while the Bearcats were nationally ranked, during the 2015-16 season. Since then, the Owls have lost three straight to Cincinnati. The games have been close, with Cincinnati winning by a combined total of 15 points.
Temple will be halfway through American Athletic Conference play after this week's action. The Owls, who are currently 10th in The American, have one game remaining against second-place Houston (15-4, 5-2 The American) and two against No. 7 Wichita State (15-4, 5-2 The American).
"There's no rest," Dunphy said. "You're in the rhythm of the season, and you've got a lot of work still to be done."