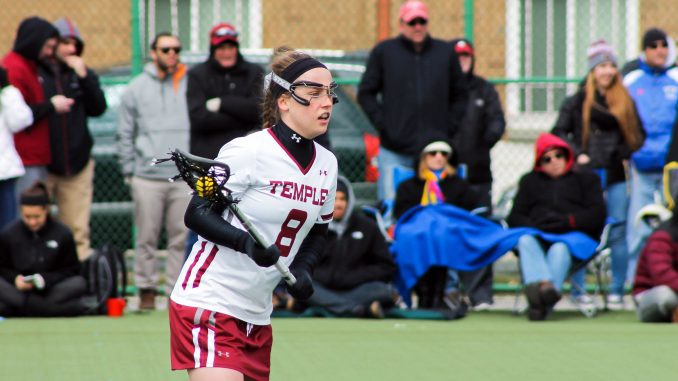 After the first half of the collegiate women's lacrosse season saw Temple reach its best record through nine games in 18 years, the Owls have hit a wall since the start of Big East Conference play.
The squad has lost its first three conference games, against teams including Florida, Vanderbilt, and Connecticut, and is currently ranked sixth out of eight Big East teams. With three conference games left on its schedule before the Big East tournament, Temple's playoff hopes are in jeopardy.
Regardless of the team's goals, it doesn't have a lot of time to recover from its slow start. For a turnaround, Temple will likely need to look toward its veteran leadership.
Returning all but six players from last year, the team relies on depth and experience.
All three of the team's captains are upperclassmen – not including Molly Seefried, a senior who was named as the fourth captain before being lost in the fall to a recurring concussion issue, and only four out of the 12 players on the team with more than five points are underclassmen. That's not taking into consideration that most of the players that haven't contributed points to the stat sheet are defenders, and the only five defenders that have played in more than one game are either juniors or seniors.
"I think [the seniors] are doing a great job this season with leadership," junior defender Summer Jaros said. "But I think, overall on the field, if everyone communicates to each other, everyone can be a leader."
The team's most unique strength is experience, and it sets Temple apart from other Big East competition. Only Georgetown has a higher number of juniors and seniors on its team than Temple.
As the team's lone two seniors who receive significant time on the field, attacker Macie Hauck and defender Carli Fitzgerald will be counted on as leaders more than others. Hauck has scored six goals and added three assists on the season, while Fitzgerald has collected 16 ground balls and caused nine turnovers.
Hauck talked about positivity as a key if Temple wants to turn its season around.
"We will definitely try to stay positive," Hauck said. "We have to make sure everyone is still on board with our goals."
"I think as seniors we can have a big impact in the next few weeks," Fitzgerald said. "We are important to the team even if we aren't playing well. We can have an impact by keeping a level head and continuing to encourage our team. Also, after the game, we can help the team by getting them back at it and ready for the next game."
Last season, the last team to get into the Big East tournament, Rutgers, finished the season with a conference record of 3-4. With Temple stuck with a 1-3 conference record thus far this season, it will likely need to win at least two of its last three games to make it this season, especially with four Big East teams over .500 in 2015.
"We have a tremendous amount of experience on the team," ninth-year coach Bonnie Rosen said after last Wednesday's 18-6 loss at UConn. "I think that the resolve and determination is going to determine quite a bit of our play in games. I have been happy with our approach to practice, but ultimately when it comes down to getting ready for game time we have to go after it, and that takes leadership from everybody that is on the field and off the field. Our veterans are going to be really important."
Matt Cockayne can be reached at matthew.cockayne@temple.edu or on Twitter @mattcockayne.