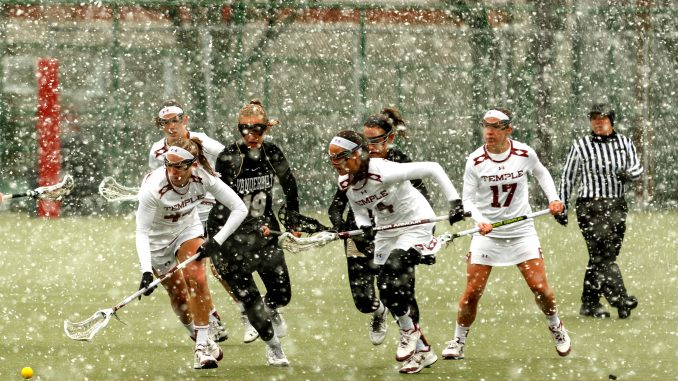 When the final buzzer sounded on Saturday, Vanderbilt University goalkeeper Callahan Kent crouched alone in front of the goal circle before leaving Geasey Field.
As snow flurries blew in Kent's face, the scoreboard behind her read 7-3 in favor of Temple, which celebrated its first conference win of the season on the other side of the field.
"Last year we lost to them and this year we just came back with a vengeance," junior attacker Carly Demato said. "Big East play is so different. You can lose every game out of conference and do great in your conference and go to the tournament. So once you get in conference, especially if you had a bad out-of-season, you're so hungry in conference. So it was a big win for us today definitely."
The Owls lost to the Commodores 14-8 last year—one of five conference losses for the team. The 14 goals allowed were the fourth most Temple's defense allowed during the 2015 season.
On Saturday, Temple's defense held an opponent scoreless in a half for the third time this season.
Trailing 3-2 with 20 minutes, 39 seconds remaining in the first half on Saturday, the Owls scored four consecutive goals to take the lead. Senior midfielder Nicole Tiernan added a second half goal and redshirt-senior goalkeeper Jaqi Kakalecik made three saves to help preserve the win.
The team's first Big East win last season came against Marquette University after three losses to open the conference schedule. This year it took two games for the Owls to reach that mark.
"It's helpful to have the win both for confidence as well as just flat out in the record," coach Bonnie Rosen said "We still have a lot more work to do to get ourselves to be in the top four and guarantee that's where we are at the end. But to do it today both takes off some pressure and also gives us confidence."
Temple nearly won its first conference game of the season, which would have been the first time the team had done so in its three years in the conference. The Owls lost their 2014 opener to Connecticut and fell 17-3 to the University of Florida at Geasey Field in last season's opener.
The Owls opened their conference schedule against the Gators for the second consecutive season, this time in Gainesville, Florida. Facing the No.2 team in the Intercollegiate Women's Lacrosse Coaches Association poll and the No. 15 offense in Division I, the Owls wanted to play a possession offense to give Florida less scoring opportunities.
"We practiced it in practice like having longer possessions and when they would time it, we would think it was at least five minutes long, but it really it was like a two-minute possession," senior midfielder Kirstie Connor said. "So it was definitely hard to stay patient and just work the defense."
With the game tied at nine with less than 10 minutes remaining in this year's contest against Florida, the Owls had a man-up opportunity. They kept the same strategy they used all game; stay patient and wait for the best shot. After the two minutes expired, Gators goalkeeper Haley Hicklen saved Tiernan's shot, leading to the game-winning goal on the other end.
"It just shows that we can compete," senior defender Kara Stroup said. "People still might not respect the score, think it was luck or whatever, but I think that we're going to surprise a lot of people with how we're going to play in this conference."
The Owls continue conference play tomorrow against UConn, which is undefeated in conference play and was picked to finish second behind Florida in the conference preseason poll. The team will look to avenge its 18-6 loss to the Huskies last season, a game in which the Owls trailed 10-2 at halftime.
"UConn is certainly a very good challenge," Rosen said. "It is our next best challenge. I think our team has a little additional emotional tie to wanting to beat UConn coming off a game last year that we weren't that happy with. So we'll be trying to temper down some of those emotions and just get to business."
Evan Easterling can be reached at evan.easterling@temple.edu or on Twitter @Evan_Easterling.