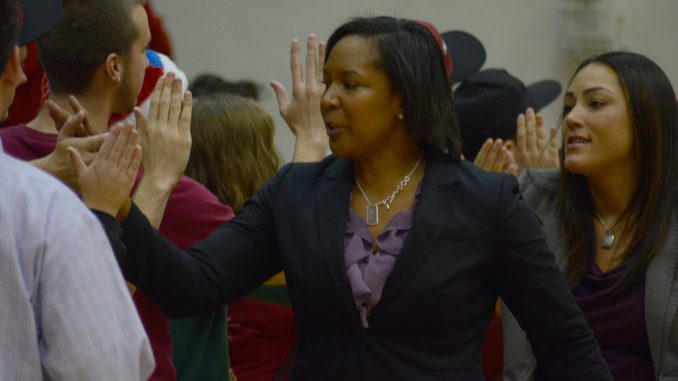 Coach Tonya Cardoza has been preaching it all season: don't let your feet off the gas late in games.
In the Owls' 52-45 win over Xavier (13-16) in the first round of the Atlantic 10 Conference tournament, Temple (13-17) finally got the memo. Making open shots down the stretch made all the difference.
"There's been situations where we're getting stops and getting stops, but we're not scoring," Cardoza said. "But I felt like today we were getting stops at key moments but the difference was we were actually making some shots on the offensive end. That right there, I think they all feel good about themselves. That turns up the defense even more so."
The initial minutes of the game had all the making for an early tournament exit for the Owls. Xavier stormed out of the locker room on fire, hitting five of its first nine shots while Temple hit just one of its first seven. Cardoza was forced to call a timeout with the Owls trailing 12-3 out of the gate.
However, the momentum visibly shifted following the timeout. Temple responded and raced out to a 12-0 run and, from there, the first half was all Temple. After trailing 12-3, the Owls outscored the Musketeers 25-8 and led 28-20 at the break
Backed by a game-high nine points for sophomore shooting guard Rateska Brown and eight points from redshirt-junior power forward Natasha Thames, Temple shot 36 percent in the first half compared to Xavier's 33 percent. 
"We just played as a team. We played as a family," Brown said. "The key is playing like a family and doing the little things, and that's why we were successful today."
The second half brought more of the same for the Owls. After the Musketeers cut the margin to three, Temple pressed on and ripped off an 8-0 run to go ahead 36-25. With three minutes remaining, Xavier found itself down an insurmountable 14 points.
Senior center Victoria Macaulay backed Brown's game-high 14 points with a double-double, finishing with 12 points and 14 rebounds on 6-of-12 shooting. As she was being swarmed in the first half, it was Thames who capitalized with easy buckets in the paint, as she chipped in 10 points and eight boards. That, as Brown would say, is playing like a family.
Macaulay, the team's grizzled leader, was relieved to have lived at least another day.
"[Earning another game] is very important," Macaulay said. "I want to earn another game and another game. Just playing with them throughout the whole year has been a great experience and I don't want that experience to end. Not yet, it's too soon."
The feeling of getting ousted in last year's A-10 tournament is forever engraved in her memory, Macaulay said.
"We turned it up as soon as we got down," Macaulay said. "There's never gonna be a repeat of last year, we're gonna make sure of that."
The last time Temple and Xavier met, on Wednesday, Feb. 20, the Owls lost a 54-53 heartbreaker in which junior guard Shatyra Hawkes and redshirt-senior center Jessica Pachko scorched the Owls with a combined 27 points on 13-of-19 shooting. Hawks also dished out four assists in the process, while Pachko grabbed nine rebounds and blocked three shots.
This time, things went a bit differently. Temple adjusted and allowed just a combined nine points between the two.
Both sophomore point guard Tyonna Williams and Macaulay made sure Hawkes and Pachko were held in check. Freshman forward Sally Kabengano, known for her strong defense, also did her part in shutting down Hawkes.
"Me and [Hawkes] are actually good buddies. We grew up playing against each other," Williams said. "Before the game I told her she wasn't getting lucky tonight. When we're on the court, it's all-out with me and her. I think Sally [Kabengano] did a tremendous job. We know that she [Kabengano] is our stopper."
"Just watching film and adjusting [made all the difference]," Macaulay said. "Just trapping [Pachko] in the paint. We talked about it in film, and that's what we did."
While Temple has advanced to the quarter-finals to face third seeded Charlotte (24-4, 13-1 A-10) tomorrow, the Owls can enjoy victory for at least one night. After all, Cardoza has been waiting a long time for a complete win like this.
Temple outshot Xavier 38 percent to 33 percent, and forced 20 turnovers while committing 18. They made the hustle plays and did the little things that Cardoza has been begging for all season.
"I'm not asking them to be great, I'm just asking them to do the little things," Cardoza said. "And I felt like all season long, if we had done the little things, things would have been different. But I'm glad they banded together and decided amongst themselves like, 'let's do the little things and let's take advantage of this opportunity.' But it pisses me off that they waited until now to do it."
However, if the Owls come out and play tomorrow like they played tonight, will it be enough to upset A-10 juggernaut Charlotte?
"We just have to make sure we're a little bit smarter," Cardoza said. "I felt like we gave [Xavier] wide open shots, and they just missed them. I love the effort, but it has to be that times 10 [to beat Charlotte.]"
Temple and Charlotte will tip off at St. Joe's in Hagan Arena tomorrow at 5 p.m.
Tyler Sablich can be reached at tyler.sablich@temple.edu or on Twitter @TySablich.