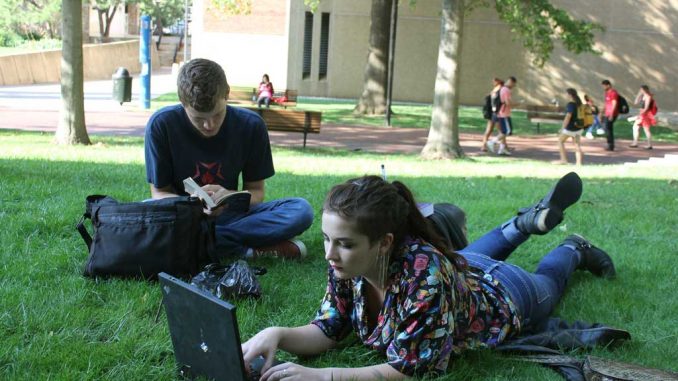 Paley Library has been offering students the opportunity to check out laptops on loan for years, but because of budget cuts and a lack of student interest, the library has ceased the program.
"The usage of laptops had become stagnant," Steven Bell, associate university librarian, said. "During the 2009-10 year, we had 5,600 loans of laptops, 2010–11 it was 4,800, 2011–12 around 4,500."
This year, the library has seen a 6 percent budget cut and in the last year, there was a 4.8 percent cut in the library's budget, which required Bell and others to make some difficult decisions.
"This does not please us about eliminating a service," Bell said. "We understand the position of students who are affected by this."
But, even before the university's budget reduction, the staff at Paley had already been thinking about the future of laptop borrowing.
Bell said that students use their own personal laptops at Paley, and those who do not have their own, are increasingly using their cell phones for quick service.
"The overwhelming number of students who bring their own laptop or other computing device to campus [and] the availability of laptops to loan at the TECH Center — all points to the fact that we need to find better ways to use our library resources to help a greater number of students achieve academic success," Bell said.
Bell and other librarians analyzed 3,152 laptop loan agreements made in 2011 and 2012. Those loans were made to 802 students, with 46 percent of them borrowing one time and another 16.7 percent borrowing twice.
Bell said he considered the confluence of factors when making his decision, including the decline in usage, the very small number of students who were using this program regularly and the budget cuts — plus the cost to acquire and maintain laptops and the added number of student worker hours needed to operate the service.
Some students said the decision to cut the program shouldn't have been made, but are understanding of the reasoning.
"Well I don't necessarily think that it was a good idea that they cut the program," junior environmental studies major Josh Good said. "But if it really wasn't working out the way that they planned for it to then I guess it might have been in the best interest to get rid of it, save some money and put it elsewhere."
Others agreed with Good, but said they probably would have used the loan program if it had been advertised better.
"After hearing about it now, I think it's a good idea," Mark Radziak, a sophomore film and media arts major, said. "Most of the kids that live here, like [my roommate and I], we have trouble with our connection with our laptops and more laptops couldn't hurt in the library. And you could use those laptops in the library for better use."
An alternative to the Paley loan program is found at the TECH Center, which also loans laptops to students. There are 40 PCs and 10 Macs available for individuals to borrow and use inside the facility. But unlike Paley's program, students cannot keep the computer overnight and may only use it for up to three hours.
"The laptops are popular during times when the TECH Center gets close to full, such as the end of the semester or around mid-terms," Gerald Hinkle, executive director of computer services, said. "If most of the desktop computers are occupied, people often borrow the laptops and use them in the lounge areas or other casual seating. During non-peak times, some people still prefer them to desktop machines for use in the lounge areas, collaboration tables or breakout rooms."
Hinkle said that the staff at the TECH Center surveys students every spring, and in a recent survey, about 95 percent of students said that they own computers. Of that, about 94 percent now have laptops, up from 74 percent in 2007, Hinkle said.
Personal computer ownership leads to a decrease in laptop loans — a main factor contributing to Paley shutting its program down.
Though the laptop loan program is no more, Paley does have other electronics that it offers to students such as flip cameras, Kindles and an iPad loan program, which Bell has said is hugely popular.
"We will continue to explore technology and services that will benefit Temple University community members." Bell said.
Dominique Johnson can be reached at dominique.johnson@temple.edu.