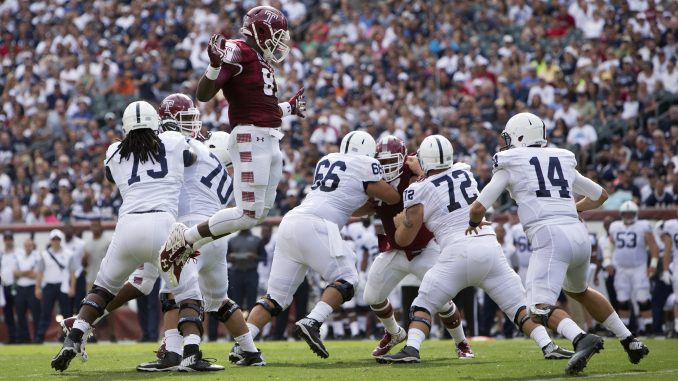 After each game, Haason Reddick watches the film and grades his performance.
The redshirt-senior defensive lineman didn't like what he saw during the Owls' 38-0 against Stony Brook University on Saturday.
"The second game, I would say anywhere between a 'C' or 'D,'" said Reddick, who had one tackle against the Seawolves. "I played hard that game, but I missed like three tackles and I'm extremely down on myself for that. … That's my challenge this week, to make every tackle that comes my way."
It will be a challenge for the whole Owls' defense as the team faces a dynamic Penn State (1-1) offense at Beaver Stadium on Saturday. The Nittany Lions, who have averaged 36 points per game, scored 39 points in their loss against the University of Pittsburgh on Saturday.
Penn State's offense, which averages 380 total yards per game, features several offensive weapons. Sophomore running back Saquon Barkley rushed for 85 yards and four touchdowns against Pittsburgh, and also had a receiving touchdown. He broke the school's freshman rushing record with 1,076 yards in 2015, but he only had one carry against Temple last year. This time, he'll be featured in the backfield.
"[In]the Pitt game, you can't find very many times where a guy tackles him one on one, the first guy tackles him," coach Matt Rhule said. "So I think he's tremendously elusive. He's really really fast … He's going to be a real challenge for us to leverage him, not let him get to the corner and then the first guy's got to try to tackle him and then everyone needs to rally to the ball."
Junior Trace McSorley has replaced Christian Hackenberg, who is now with the New York Jets, as Penn State's starting quarterback. Last week, he became the 12th quarterback in school history to throw for 300 or more yards in a game.
McSorley spread the ball against Pitt, hitting eight different receivers. He found junior wideout DaeSean Hamilton, who is second on the team in receptions, eight times for 82 yards. Four players have 90 or more receiving yards for Penn State.
DeAndre Thompkins only has four catches, but he has been a big play threat. His 32.5 yards per reception ranks No. 5 in Division I. He a had 39-yard, one-handed, over-the-shoulder catch against Pitt last week.
The Owls' defense has only allowed 99 yards passing on the season, but has not faced a dynamic aerial attack. Army completed two passes for 15 yards, and two Stony Brook quarterbacks combined to complete 8-of-20 attempts for 84 yards.
Pressuring the quarterback will be important for the Owls. In last year's matchup, Temple got an American Athletic Conference record 10 sacks, a number Rhule said doesn't tell the full story. Temple does not anticipate such success this time around. The Nittany Lions' offensive line has allowed five sacks through two games, but four of them came last week against the Panthers.
"I've been watching them on film and they have gotten better," Reddick said. "Their offensive line has gotten better. I take every offensive line the same. I watch the right tackle and left tackle and see what moves I can work on them that I have in my repertoire, moves that I think would work and I take them to the game see if they work or not, try to do my best."
Evan Easterling can be reached at evan.easterling@temple.edu or on Twitter @Evan_Easterling.
Loose Notes: Junior defensive lineman Jacob Martin, who missed the Stony Brook game, and redshirt-sophomore defensive back Jyquis Thomas practiced on Tuesday.