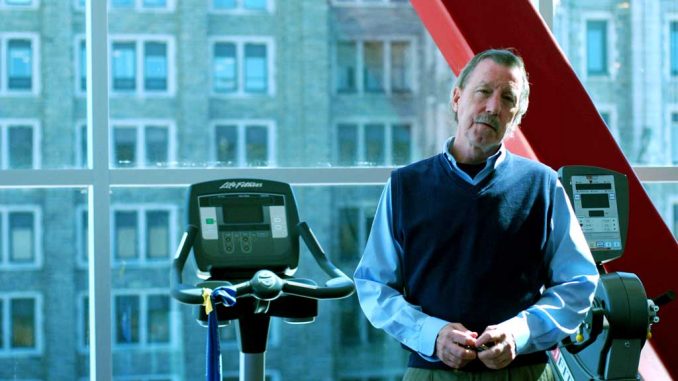 Director of Campus Recreation Steven Young spent four years taking camping trips in the wilderness with ad judicated youth for 30 consecutive days.
Young used to be a wilderness instructor and course director for Outward Bound-style programs. Outward Bound is an Outdoor Leadership Program that challenges the youth to become leaders through outdoor adventure courses.
But, that was more than 25 years ago.
Young has since been working at Temple. And although it has been some time since Young has worked in the wilderness, he said he will be supporting the program by participating in a unique fundraiser.
Young is rappelling off of the Tower Plaza III in Center City.
While most may find this task to be frightening or risky, Young believes it to be "pretty mundane compared to what [he] used to do in the woods."
The Temple News: Can you tell me a little bit about Outward Bound?
Steven Young: Outward Bound is an [international] nonprofit adventure education program. Here in the United States, there are about seven or eight schools. Many of those schools have put programs into the inner city, urban environment – Baltimore, DC, Philadelphia, Boston, New York City.
TTN: What is your background in the Outward Bound program?
SY: I'm an Outward Bound alumnus in North Carolina from my days back as an undergrad at West Chester [University]. I got involved way back in the late '70s. Eventually, I got a degree in health and physical education at West Chester and went on and worked for four years in the woods as a wilderness instructor for Outward Bound and for Outward Bound-styled programs. A lot of their clientele are folks like you or me, who would pay money to go on a [27 to 30] day trip…backpacking, hiking, whitewater canoeing, climbing – it might be in the snow, it could be paddling down in the everglades…It has different segments to it – challenges, small-group process dynamics, that kind of [thing]. I ended up working for about four years for programs that dealt with adjudicated youth. So it was kids from the state of Pennsylvania who were in detention centers, who may have 12 months in detention. They could go on the course that we had and if they did well, maybe their detention stay would only be 30 more days, or maybe they would cut off the rest of their detention. Sitting in detention typically does not rehab a 15-year-old who's been in trouble. In fact, they're sitting in detention all day reading comic books, [learning] war stories from other delinquents. Instead of them coming out with a new attitude and a new view on how to cope or how to be successful, instead they just do their time, come out and next thing you know, they're even a little bit further behind the eight ball. The Outward Bound course is one that challenges folks to look at things in a different perspective. In 1985, when I was done with that, I came to Temple for my masters for one year and was hired after that first year and I've been here ever since.
TTN: What do you do here at Temple?
SY: I am the director of the campus recreation programs, so our charge is to provide productive leisure opportunities for the students, as well as the employees, here at Temple. We manage the [IBC Student Recreation Center], we manage [Temple University Fitness]…We now have some space up here in the Pearson McGonigle complex, including the climbing wall, the student pavilion…We share a lot of gym space and outdoor space with athletics, we run a fitness operation up at the [Temple Administrative Services Building]. We also have intramural sport clubs and aquatics programs.
TTN: So, what exactly will you be doing on Nov. 2 for the Outward Bound fundraiser? 
SY: Friday, Nov. 2, I will rappel off of Tower Plaza III down in Center City, which is one of the three buildings where Temple Center City is, west of City Hall. I believe it's 1515 Market St., but I do not know yet what time it will be. So, I'll rappel 22 floors, which is [around] 240 feet. In the outdoor world, a rappel is for after you climb up, it's used as a way to descend back to the bottom. It's not that much of a challenge, the climbing up is typically the tough part…and I'm not climbing up, I'm taking an elevator. It's a pretty unique way to raise money…and it's a great way to bring an outdoor adventure into a city, and you're still doing a rappel, but instead of off a mountain or a huge rock cliff, you're doing it off a skyscraper. So it's a unique way to do it.
TTN: So far you've raised about $5,000 for your fundraiser. How did you raise that money?
SY: They reached out to me from Outward Bound Philadelphia. I am on a list of the Outward Bound alumni. They reached out telling us they are doing this building adventure to raise money for Outward Bound Philadelphia. So here I am, it's about 28 years since I've done all that stuff, but I thought, "Jeez, here's a terrific opportunity to support a really great cause…it gives me a chance to do something that, back 28 years ago, I did hundreds of times." I haven't done it in a long time, but I figured why not get a chance to raise money for a great cause? I thought I had the capability with either friends or colleagues to maybe raise enough to get to the first level. You needed to reach $2,000 to get on the roster to do the rappel. [Raising] $3,000 gets you a helmet cam, so I'll get a DVD of the event. So I thought I could at least get the $2,000. Because of the Temple Made splash that was coming out, they were interested. I'll probably get some red and white eye black – [I'm going] to try to Temple it up as best I can – because they've put a little bit of money in and they allowed me to contact colleagues here for contributions for support of Outward Bound Philadelphia. What they do is they put [each person on the roster up on a website and allow people to donate contributions online]. You can explain in a letter basically what you're doing and you can go on the website and see my letter. It even shows you the most recent contributions and their personal messages to you. I can change my picture, I can edit my letter, I can change my goal as well.
TTN: Do you think you'll change your goal? 
SY: I've been moving it up as I go along, because I put it in as $2,000 [since] I just wanted to get the slot to be able to rappel. As I hit each goal, I pushed them up a little bit. Now that I've gotten past $3,000, I'll get the helmet cam, which will be pretty interesting.
 TTN: Are you scared? 
SY: Not really, actually since I was one of the top fundraisers for the event, they invited me down to a charter school – the [Russel] Byers Charter school on Arch Street in Center City – where that charter school has sent kids, through Outward Bound Philadelphia, to week- or two-week long courses. So they have kids who have gone through some of these things in the wilderness. So they had kids rappelling off of the top of their roof – it's a three-story building. They had ABC6 News there and things like that and they invited me down just to get a taste. So it was nice, I got a chance to go down and see the rig and how it was hooked up. I got a chance to get in a waist harness, which I hadn't done in [about] 25 years. And I got a chance to rappel off the three floors. I'm not saying it's like riding a bike, but having done it a few hundred times, easily, it was good to get back on the edge. Having done it so much, it's not that big of a deal. It's scary going off the edge, but that's scary whether it's 35 feet or 220 feet.
Nickee Plaksen can be reached at nicole.plaksen@temple.edu.