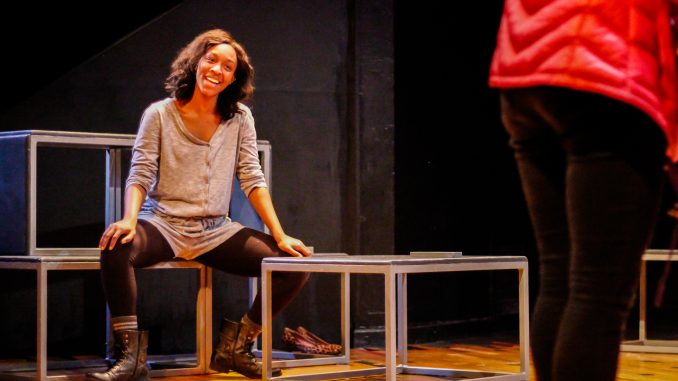 As a play director, Edward Sobel can see a common problem: new works usually take too long to be produced, if they are produced at all.
The lengthy process of production could make the author lose the impulse to write, Sobel said.
"Imagine trying to go back and write a story that you had written a year and a half ago," Sobel said. "Now you try to reconstruct why you wrote that story that you did before."
Sobel developed Temple's first playwright-residency program in December 2015. In this program, playwrights are guaranteed to have their work produced in a short development process, including staged readings, feedback and suggestions for revisions.
The program's first product is the original play "Reggie Hoops," written by Kristoffer Diaz. The play opened on Jan. 31 and will be shown at Randall Theater until Sunday.
In college, theater students mostly learn from classic plays, Sobel said. But new plays "are often the way people get to build up resumes."
The playwright-residency program was created to give the best opportunities and experiences for both playwrights and actors, who are mostly graduate students, Sobel added.
As a friend of Sobel's, Diaz was asked to write a play for the program about a year and a half ago. During the production process, Diaz met six theater students who were later cast in his play.
Diaz then wrote "Reggie Hoops," not only for himself, but also for the student actors and actresses he met at Temple.
"It's a really rare and great opportunity to write something specifically for a group of actors," Diaz said. "Also, it's rare to write something and know that it will be produced pretty quickly."
The play tells the story of Reggie, a former NBA assistant general manager who has to choose between basketball and her family. Over the course of the play, Reggie faces societal pressure and difficult choices between her family and her dream, Diaz said.
Savannah Jackson, a second-year master's of acting student and an actress in "Reggie Hoops," said the program encouraged the student actors to independently research topics covered by the play. With classic plays, the students are already familiar or have done the research, but with new works, it involves more of an independent study.
Jackson was cast as Reggie, and she studied the roles of women in professional sports.
"It's all those things you are able to research," Jackson said. "You do that with other scripts, but sometimes you read a book that has it all. Someone has already done it."
Set design was a challenge for a play produced in such a short amount of time, Sobel said. But collaboration between faculty members, theater alumni and graduate design students helped bring the play to fruition.
"Reggie Hoops" was rewritten several times to raise questions about "being great," referring to President Donald Trump's "Make America Great Again" slogan. Identifying himself and his students as "citizen artists," Sobel said he hopes Temple students will acknowledge their social responsibilities through the program.
"It's important to be able to speak about something immediately," Sobel said. "The play is about exploring the question of what it means to make something great and great for whom."
Quang Do can be reached at quang.duc.do@temple.edu.