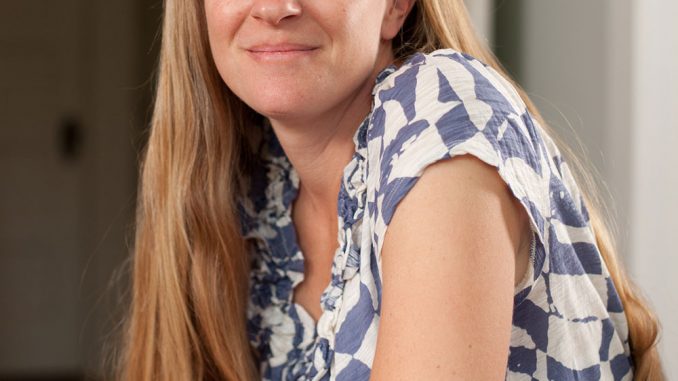 Pattie McCarthy doesn't think writing needs to be done alone in a room. That's why the creative writing professor is taking students off campus to write poetry this summer. 
A poet herself, McCarthy will teach Poetry of Place, an introductory-level English course, during the first summer session. Students will travel to locations in the city that are mentioned in the work of established Philadelphia poets, like Jenn McCreary and Ryan Eckes.
"I think that a lot of the time when we're students and we're thinking about poetry, so much of that is inside the classroom," McCarthy said. "Thinking about this workshop is a way to get poetry out of the classroom and into the city."
The class is a traditional workshop, meaning that students will share their own work and critique the work of other students. McCarthy said she hopes the workshop will foster discussion about the importance of settings in poems.
"The place in which you write something features in what you write," McCarthy said. "Poems are not necessarily always just something that happens in the poet's head."
McCarthy has planned two trips for the class so far, one including a stop at the Philadelphia Museum of Art. She said it's important that poets utilize their surroundings, especially if
they're in or near a city.
"I think that the city, not just Philadelphia, is important in contemporary poetry," McCarthy said. "Thinking that the urban perspective in poetry is important, so much poetry has been written in and about Philadelphia. This workshop is really a way to look at Philadelphia as material for writing."
The three-credit course will be held on Tuesdays and Thursdays from 9 a.m. to noon. Classes start on May 19 and end on June 30. McCarthy said the course is ideal for the summer as it might be more difficult to travel frequently during the school year.
McCarthy said students would likely visit the city on Tuesdays and return to the classrooms on Thursdays. She' said her goal is for students to develop 10 to 15 pages of new poetry by the end of the course.
English professor Stanley McDonald taught a similar course last summer called Creative Writing: Poetry Workshop. The class met for just one week, Monday through Friday from 9 a.m. to 5 p.m.
McDonald said the schedule allowed the class to make frequent trips to the city.
"The administration wanted someone to design a course that was a weeklong but with the same amount of time as a semester," McDonald said. "So because there were such large blocks of time, they said I could take students off campus."
McDonald said the class traveled to the Philadelphia Museum of Art to create "ekphrasis" poetry, or poetry that is inspired by existing works of art, like paintings or sculptures. McDonald said this activity was a class favorite.
"When we went off campus they were very focused on the work that needed to be done, and they liked that freedom of being out in the world," he said.
Junior secondary English education major Alexander Davies took McDonald's class last summer.
"I took it because it was convenient for me. I never expected it to be as amazing as it was," Davies said. "It allowed us to tap into something that normally takes a while to tap into, but it happened immediately. [McDonald] was giving that freedom to create poetry in your own space, which was really cool and different."
McDonald said it's important for students to get off campus.
"It's a way for them to strengthen their feelings of comfort and understanding," McDonald said. "You're thinking about all of the ideas and concepts you're learning in college out in the streets, and trying to figure out how to apply these ideas to their daily lives."
Davies said his favorite trips were to Rittenhouse Square and the Philadelphia Museum of Art. He said the course was his favorite yet at Temple.
"Being able to stand in the museum and feed off the energy that the artists were giving was amazing," Davies said. "I'd never written richer poetry than I did that day."
Claire Sasko can be reached at claire.sasko@temple.edu.