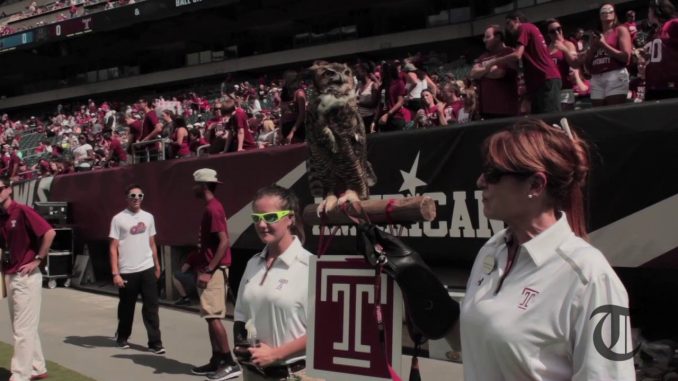 Matt Rhule was late to his postgame press conference.
He had good reason to be, though, as his team celebrated its largest margin of victory in its modern era.
After a 59-0 blowout of Delaware State, the song "Apache" by Sugarhill Gang reverberated through the stadium's cellars, the first time music could be heard from the Owls' home locker room since October of last year.
For the third game in a row, Temple altered the history books, this time in the form of point production, breaking a first-half record with 42 points and a margin of victory with a 59-point differential.
Special teams headed the team's scoring efforts early on, notching two of the team's first three touchdowns – one on a blocked punt, the other on an 84-yard punt return by sophomore returner Khalif Herbin.
Rhule credited the talented leadership on special teams for providing an early impact this season.
"I think they've got the right kind of guys leading that group [on special teams]," Rhule said. "[Redshirt sophomore] Avery Williams is our special teams captain. It's one of the things that gets lost, he is as good a special teams player as there is in our conference. He runs down on kickoffs and just sets the tone. So many guys are following him, so I think it's leadership."
As the heavily-favored team, the Owls used last season's loss to Fordham, a Football Championship Subdivision team, as motivation to not take any team lightly.
"Fordham really taught us a lot," sophomore defensive end Sharif Finch said. "We never take anybody lightly. We prepared for this game like we were preparing for Alabama."
Finch, who moved from linebacker to defensive end in his second season with the Owls, scored his second defensive touchdown in as many games, one on a fumble recovery and the other on an interception.
Finch has become an operative component of the Temple defensive attack, an attack that featured its first shutout in three seasons.
"[Finch] is a big, key part of this defense," junior linebacker Tyler Matakevich said. "He just makes plays. Two games in a row he's scored a defensive touchdown, which is pretty ridiculous for a defensive lineman. He's so athletic and makes so many plays."
Finch, who gained roughly 30 pounds in the offseason, went into the season with confidence in defensive coordinator Phil Snow's system.
"I always believe I can make plays," Finch said. "I know once you trust your technique, you're always put in position to make plays."
Temple's defense has forced 12 turnovers through its first three games, one shy of its total from the entire 2013 season.
However, even with strong defensive and special team support, the Owls' offense failed to gain traction early in the game once again.
Sophomore quarterback P.J. Walker, who had struggled with vertical passing through the first two games, continued to display inconsistency, throwing two interceptions to go along with his two touchdown passes.
Heading into conference play, the offensive struggles have become a concern for Rhule.
"We still have to learn to respect the football in the passing game," Rhule said. "I was not pleased with P.J. in terms of taking care of the football. … We have a lot of work to do, we have a lot of guys who can make a play here and there but we're certainly not clicking on all cylinders."
"I got after P.J. on the first [interception]," Rhule said. "What we can't do is every time we call a deep play-action is just throw it up, so I got after him pretty good because he's been coached on that enough. Now it's time for him to take the next step and not do that."
However, the team's struggles on the offensive side weren't exclusive to Walker. The team's running game averaged only 4.3 yards per carry, an average that was bolstered by freshman running back David Hood's 7.3 yards per carry on eight rushing attempts, all of which took place in the fourth quarter.
In the first quarter of the game, the Owls averaged 3.4 yards per carry, nearly a yard less than their average in 2013.
With Temple's American Athletic Conference opener with the University of Connecticut approaching, Rhule said he is happy with his team's development with the process of winning games.
"In the offseason, I told our guys 'We have to learn to respect winning'" Rhule said. "We didn't respect winning last year against Fordham and I thought our kids respected it this week. When I'm going to the facility at 8 or 9 o' clock at night and a bunch of kids are in there watching film I'm saying to myself 'O.K., we're learning to respect winning."
EJ Smith can be reached at esmith@temple.edu and on twitter @ejsmitty17