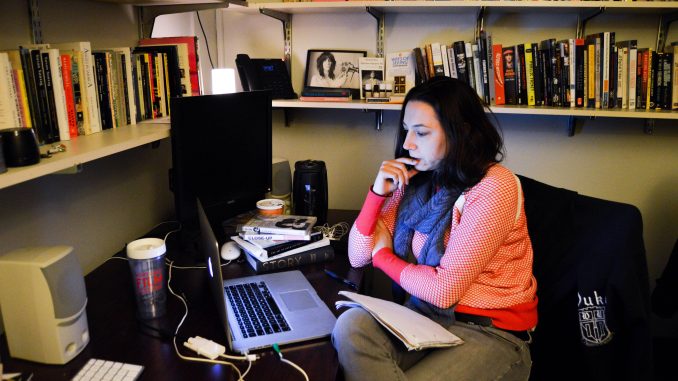 Lauren Wolkstein's office is filled with books about screenwriting and directing. A film reel even sits atop the shelf that contains her collection of books.
Wolkstein, a film and media arts professor, is one of this year's six Women at Sundance Fellows. She recently released her first feature film in theaters, "The Strange Ones," with co-director Christopher Radcliff, a New York filmmaker.
Sundance, an arts nonprofit, runs a prestigious annual film festival in Park City, Utah. This year, the festival runs Jan. 18 through 28. Wolkstein attended the first few days of the festival.
Inspired by true crime stories, "The Strange Ones" is a drama about two brothers and the mysterious events that occur as they venture across America on a road trip. By withholding background information and revealing as little as possible on the brothers' adventure, the film creates a feeling of suspense.
"[The theme] was this idea of people that are strangers to each other and never really knowing who a person is when you think you're close to him," Wolkstein said. "There's always…this sort of allusiveness of who we are."
The film premiered on DIRECTV's Cinema TV Spot in December 2017, and it was released in theaters in 11 cities on Jan. 5.
When they were researching for the film's characters, Wolkstein and Radcliff read several true crime stories, many based on the kidnapping of teenagers.
"It was really interesting to us the length of intrusiveness to this idea that you never really know the full story," Wolkstein said. "You never really know what really happened unless you were there, and even if you were there, there's always this true sense of people."
Before the film was made into a feature, Wolkstein and Radcliff produced a similar short film, which they began working on in 2010 during their last semester at Columbia University, where they both earned MFA degrees. The film screened at several festivals in 2011.
After completing the short film, Wolkstein said she and Radcliff wanted to expand it into a full feature, and began seeking producers to finance the film.
While writing the script and raising money for the film, Radcliff and Wolkstein made several short films to continue to hone their craft of directing.
After finding producers, the two filmed the project in August 2016. It premiered at South by Southwest, an annual interactive media and music festival and conference, in March 2017, garnering a Jury Award for Best Breakthrough Performance.
"There were so many great moments," Radcliff said. "It's a bit of a roller coaster. The production was actually the funnest part of it. We loved our crew and everyone had a good time doing it."
"It's really exciting and rewarding and now it's a movie that anyone can see," Radcliff added. "In that way, it feels like a birth of a movie, and now it feels like it doesn't belong to us anymore. It's like sending your child off to college. The film is like leaving us, so it's a little bittersweet."
The program offers fellows a year-long program with a mentor, professional coaching and stipends for traveling to the Sundance Film Festival.
For Wolkstein, the fellowship feels like a new chapter in her life after working on "The Strange Ones" with Radcliff for so long.
Wolkstein said she's also grateful for the opportunity because of the lack of resources and representation for women in the filmmaking industry.
During the 2018 Golden Globe Awards on Jan. 7, Barbra Streisand expressed her disbelief that she is still the only woman to win a Golden Globe for best director. She won in 1984.
"That was 34 years ago," Streisand said during the ceremony. "Folks, time's up."
With movements like #MeToo — which is a hashtag that went viral in October 2017 by women sharing their experiences with sexual misconduct on social media — taking over Hollywood, Wolkstein hopes to see more female filmmakers create work.
"This industry is very hard," Wolkstein said. "And it's really hard for females to get the support we need to keep going after you make a few films to stay in the industry. So [Sundance is] providing a lot of support that necessarily wouldn't be available."
"Now we are going to see really important stories in Hollywood of our lives that's been missing from Hollywood for a really long time," she added.