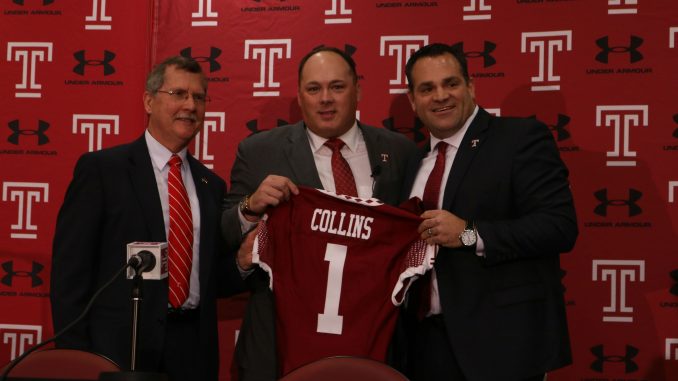 Temple University Athletic Director Patrick Kraft is one of three finalists who will be interviewed to replace former University of Maryland Athletic Director Kevin Anderson, the Baltimore Sun reported Wednesday.
Kraft is believed to be the front-runner to replace Anderson, who's served as Maryland's AD since 2010 before taking a sabbatical in October 2017 and resigning in April, the Washington Post reported.
Earlier this month, Kraft was appointed to serve on the NCAA Division I Strategic Vision and Planning Committee through June 2022.
Kraft came to Temple in May 2013 as the deputy athletic director and received promotion to athletic director in May 2015. Before arriving at Temple, Kraft worked as a senior official in Loyola University Chicago's athletic department from 2011-13.
The other two finalists for the Terrapins' top athletic job are former University of Tennessee Athletic Director John Currie and acting Maryland Athletic Director Damon Evans, who assumed his role when Anderson stepped down in October.
Anderson ranked among the top-25 highest-paid employees at the University of Maryland, according to the 2018 annual university salary guide released by The Diamondback, the university's student newspaper. Anderson was fifth at $494,964.09.
Four other athletic department employees ranked in the top 10, including men's basketball coach Mark Turgeon, women's basketball coach Brenda Frese and football coach DJ Durkin. Evans made $325,000, according to The Diamondback.
The University of Maryland is a member of the Big Ten Conference. Last year, the conference announced a six-year partnership with ESPN and Fox Sports worth more than $2.5 billion. The Big Ten also has its own network.
In 2012, Maryland cut seven of its 27 sports as it faced a budget deficit. Had it not moved from the Atlantic Coast Conference to the Big Ten in July 2014, Maryland's annual deficit could have reached $17 million by 2017, the Washington Post reported in 2012. The Big Ten is second behind the Southeastern Conference in annual revenue for athletic departments.
In the 2015-16 year, Maryland made more than $94 million in athletic revenue, according to USA Today, reflecting a nearly $40 million increase in seven years.