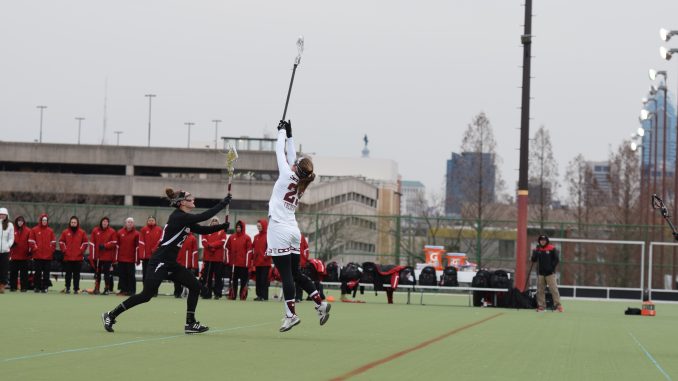 As a child, Anna Frederick bounced a lacrosse ball off a variety of surfaces. She made sure to use different angles on the pavement, as she attempted to catch the ball with her lacrosse stick.
This method has paid off for the junior attacker, who has scored seven goals as a reserve this season.
"Anna is absolutely the garbage goal, grub-crease, whatever-you-call-it, queen," coach Bonnie Rosen said. "She has a knack for being able to track the ball down and she has outstanding stick skills and hands to get to those balls and finish in creative ways. So we know anytime she's on the field and there's a ball loose, it's her ball."
Coming off her freshman season in 2014 in which she had a goal, an assist and played in nine of the team's 16 games, Anna Frederick was looking forward to fall practices in preparation for the 2015 season.
Her anticipation came to an end on Sept. 17, 2014, the third day of fall practices, as the 5-foot-8-inch attacker tore her right ACL.
"Right as it happened, I kind of knew," Frederick said. "You hear stories as an athlete about people who tear their ACL, and you hope it never happens to you. … I didn't want to believe that it could happen to me or really anyone."
The injury and required surgery forced her to miss her sophomore season. Frederick has played in all six games for the Owls this year as a reserve.
Frederick could not play with any contact until the first fall practice in 2015. She sustained a sprained MCL along with her torn ACL, and team orthopedic surgeon Dr. Eric Kropf decided to delay the surgery until the sprain healed. Then the rehab process began.
Since the injury occurred early in the season, even with the delay, Frederick completed physical therapy by April 2015 and was  ready for the start of fall practices.
"You have to work so hard just to be able to raise your leg up, which sounds like the easiest thing in the world," Frederick said. "But when you don't have any muscle in your leg, it's pretty much impossible … The hardest workout I've ever had to do, injured or not injured, was definitely one of my rehab activities."
Frederick said watching games while injured helped her develop her game. Her teammates have taken note of the junior attacker's growth.
"I think she's just overall stronger, more confident," senior attacker Megan Pinkerton said. "She has that role of a cutter and she's kind of perfecting it as we go along this season, coming off her injury."
Frederick has provided consistent offense off the bench, scoring in every game except the Owls' 12-7 win against Wagner College on March 1. She scored two goals in Saturday's 19-9 win against the University of Maryland, Baltimore County, the first off a rebound in the eight-meter arc.
"I don't really take playing for granted anymore," Frederick said. "I love being able to be on the field, even in practice. I just love being able to play. I don't know how to explain it. I can't stop smiling when we have games, because I'm just so happy that I'm able to play."
Evan Easterling can be reached at evan.easterling@temple.edu or on Twitter @Evan_Easterling.