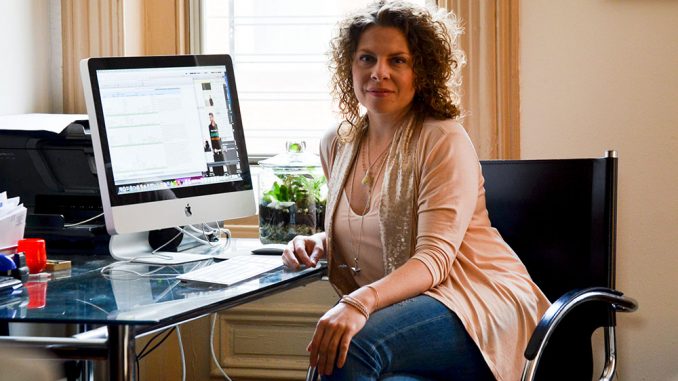 For Sarah Van Aken, the death of her best friend came after she earned a bachelor's degree in fine arts at the University of Delaware.
Upon graduation, she had no choice but to move back to her hometown near Philadelphia where she waited tables and bartended, trying to figure out where she was going to go with her life.
Van Aken said the devastation made her realize that life is fleeting, and if it was any time to start her own design business, it was then.
Today, Van Aken is a social entrepreneur, designer and speaker based out of Philadelphia.
In 2009, Van Aken started her own retail and wholesale ready-to-wear clothing line for women called SA VA and opened her store in the city.
"I wanted to develop something that I really felt was easy, effortless fashion for a woman who really just has her own sense of style, dynamic and is engaged in life," Van Aken said.
Van Aken said she wanted to make clothes for women that were versatile but "special." SA VA eventually expanded beyond Philadelphia to 50 locations around the country.
Van Aken said she loves to explore new and different things in the design world, having worked with everyone, from musicians to chefs, designing custom uniforms for well-known restaurants.
Van Aken said she feels that designing can be more than just about clothing and has explored this through creating a line of room diffusers and fragrances.
"Designing can be gardening – it's not necessarily the act of one single thing," Van Aken said.
In the fall, after a meeting to raise money for SA VA and dealing with investor challenges as well as taking her life and future goals into consideration, Van Aken decided to close SA VA.
"As I was looking at the challenges of raising money and what that would mean for my personal life in the next three years, I just didn't think it was possible," Van Aken said. "I sort of proved to myself that I could do it, there wasn't a lot of ego attached for me anymore and the next thing that I did, I wanted it to be very heavily focused on just building brands and much less focused on the business operations and the manufacturing."
She decided to refocus her career and desired to have a family. She said she felt it would not have been possible if she continued on with SA VA. Van Aken also said that she felt she owed herself the success.
One thing Van Aken said she loves to do is build brands, describing this as more esoteric than designing.
"It takes into consideration who the person is that's using it and how it is going to be presented and things that are beyond the scope of the actual product," Van Aken said.
Throughout her time in the fashion scene, Van Aken said she had always been called upon to consult with other people and that made her transition from designing to building brands much easier.
"I want to help build great brands and that leaves the door open to socially-driven businesses to consumer products to supporting entrepreneurs that have businesses I believe in," Van Aken said.
Being described by many as "a trailblazer for women entrepreneurs," Van Aken also devotes her time to speaking with women about entrepreneurship and becoming leaders in businesses.
"Where I see that going for me is really supporting women entrepreneurs and building a stronger community around the idea that if you aren't failing enough, then you aren't working hard enough," Van Aken said.
Van Aken said she feels failures are often more important than successes. During a keynote speech at the Alliance of Women Entrepreneurs Gala in the fall, Van Aken said the reaction she received from the audience made her realize this subject is not talked about enough, especially among women.
"It's important, and it's such a great thing, and we can learn so much from each other and it's something that connects us in a way," Van Aken said.
While Van Aken is moving more toward consultation, she said she doesn't feel as though she is completely letting go of designing.
"Design is something that is inherent in everything I do, and I just don't think it lives in a box," Van Aken said. "Designing a business strategy or designing a business product, it is always going to be part of what I do."
Cailtin O'Connell can be reached at caitlin.oconnell@temple.edu.