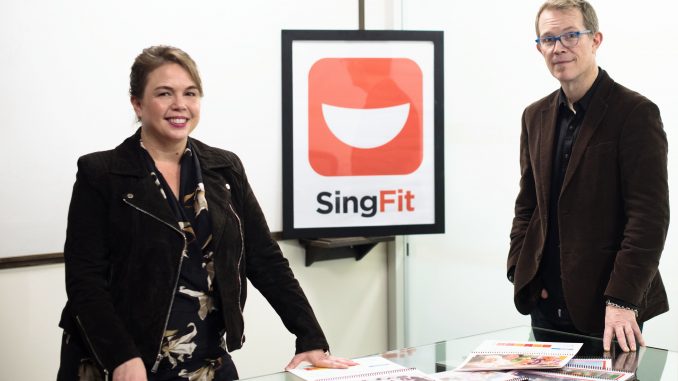 In the mid-1960s, when Louis Tubman was in basic training for the army in New Jersey, he often snuck off to opera lessons in New York.
The 1963 speech-language-hearing alumnus was always running back and forth between the two states, and sometimes he forgot the lyrics to his opera songs. He wondered why he couldn't have a device that acted as an opera prompter — someone who feeds the lyrics of musical pieces to opera singers a few seconds before it's time to sing them — in his car.
Decades later his children, 1993 music therapy alumnus Andrew Tubman and his sister Rachel Francine, created just that — but for a different audience.
Andrew Tubman and Francine are the co-founders of SingFit, a Los Angeles-based start-up founded in 2011. The siblings created an app that acts as an opera prompter for users over the age of 55. SingFit helps people with memory barriers like dementia, using either the app or a program at senior living centers with trained assisted living community staff members.
Francine and Andrew Tubman said their father always had an "inkling" that singing could help people. But through Andrew Tubman's music therapy education, he discovered the potential to use singing as a medical tool.
"Are you familiar with the word 'gestalt'?" Louis Tubman said. "It means complete. When you are actually able to complete a song or a couple of lyric lines, it's very satisfying. … I think the prompting is the key to why [SingFit] is successful."
"The pharmaceutical companies have not come up with a solution for dementia in 120 years," Andrew Tubman said. "And not for lack of trying. … Using technology and using hopefully some good therapeutic interventions with the benefits of active music-making, this is one of the things that can really help a lot of people and not make the suffering so bad."
Francine said her father was a "serial entrepreneur," and he passed his interests in technology and business on to her. Andrew Tubman, on the other hand, got their father's musical skills.
"What his dream has turned into is, I went into technology and Andy went into music therapy," Francine said. "We didn't think of [SingFit] in our dorm room one night. This is something that we've been working on and thinking about for a long portion of our lives."
When senior living centers utilize SingFit, they can spread the benefits of music therapy to more clients, while also allowing music therapists to do "deeper work."
One of the first assisted-living facilities to use SingFit, Washington-based Aegis Living, recently signed on for a fourth year of the program. Andrew Tubman said using SingFit and seeing the positive impact of music-making on the community inspired the facility to hire music therapists in addition to the SingFit program.
By the end of the summer, Francine said, 1,000 new assisted living community staff members will be trained on the program, which will reach 17,000 new patients around the country.
"For someone like Andy, that means going from being able to see maybe 25 people per week to now having his work impact 17,000 a day," Francine said.
Francine and Andrew Tubman said the main goal of SingFit is to use both of their skills to help people.
"My dad is also someone who really believes in social justice," Francine said. "Both Andy and I are driven to create things that help people."
"What we do at SingFit, it's not incremental change," she added. "We are actually introducing into the medical system a new way to treat a number of diseases, which right now, for many of them, there's no scalable solution. … You can have companies that make change and change things for the better."
Erin Moran can be reached at erin.moran@temple.edu or on Twitter @ernmrntweets.
Kait Moore contributed reporting.