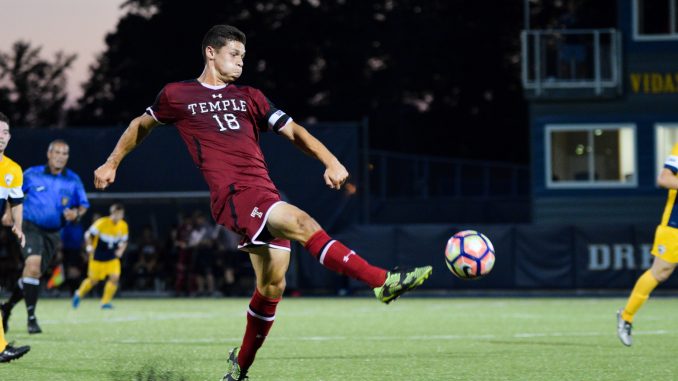 For senior defender Matt Mahoney, the best things about soccer are the relationships built through the sport.
Mahoney began playing soccer when he was five. Over the years, he has played with his brothers, was coached by his dad and is now in his fourth and final season as an Owl, along with senior midfielder Dan White and senior defender Stefan Mueller.
"We've become really close friends," Mahoney said. "We live with each other now, you know, that helps to just to have a great season. It's amazing the friendships we're going to have for the rest of our lives."
Mahoney, Mueller and White are the three of the seven seniors that have been on the team all four years and currently room together.
Mahoney and Mueller have an even closer connection, as they played on the same team before they came to Temple. Both defensemen were on the U.S. Soccer Development team B.W. Gottschee in New York City.
"Him and Mueller are pretty close," coach David MacWilliams said. "They've played together for a long time, so they're kind of college buddies. Those two guys are pretty tight."
Hailing from Poughkeepsie, New York, Mahoney has played for several teams in the New York and New Jersey areas, including the New York Red Bulls Academy before he moved onto B.W. Gottschee. His experience and knowledge of the sport gave him an advantage at Temple.
Since his junior year, Mahoney has been a captain for the Owls, who are 5-2 heading into conference play.
"I think he's an honest, hardworking guy," MacWilliams said. "He exemplifies what I look for in a captain. I mean, he does all the right things, whether it's on the field or off the field, and I think he's a leader."
Under Mahoney's leadership, the Owls turned their 2014 record of 2-14-2 into a record-breaking 10-7-2 last season.
"He had a big role, especially after our sophomore season," Mueller said. "That was our worst season so far and the leaders of the team really stood out after that. We had some players leave and some players step up, and I think after that, Mahoney was a good choice."
This year, Mahoney hopes to have his team bring home the American Athletic Conference title, as well as a berth to the NCAA tournament. The defender has some business he would like to take care of going into the conference tournament.
Temple has been knocked out of the tournament by Connecticut in the first round for two straight years. Recalling these losses as two of his worst memories, Mahoney hopes to change the storyline this year and win it all.
For now, No. 18 for the Owls believes the team will be able to bounce back after back-to-back losses to Rider University and Drexel. They defeated Fairfield University 4-0 on Saturday. Mahoney helps keep morale high on the team even after tough games.
"Most importantly, I try to lead by example," Mahoney said. "If you can't preach the right things, then the rest of the team isn't going to follow you, so I just try to do the right things in the classroom, on the field, and that kind of takes care of itself."
Mahoney shows his leadership for the Owls as a defender, a position he has played for the majority of his soccer career, as he was influenced by his father who also was a defender. The position doesn't always receive the recognition that major goal-scorers on the team do. For Mahoney, this makes scoring a goal or recording an assist even better since it is less common for defenders.
In his career at Temple, Mahoney has logged two goals and three assists. However, the stat sheets don't account for all the work in the backfield that he does.
"He's a very good player," MacWilliams said. "He's very technical, he's very savvy, he's very tactical. He knows the game, and he puts a lot of effort into the game, so he's great. He gives us an added dimension coming out the back, making overlapping runs and runs into the box, it really helps and generates some offense for us."
After his time at Temple ends, Mahoney hopes to use everything he has learned to continue playing Major League Soccer.
"I think he has the ability that he can play at the next level," MacWilliams said. "Whether it's MLS, whether it's MPSL, whatever, I think Matt definitely has the drive."
Maura Razanauskas can be reached at maura.razanauskas@temple.edu.