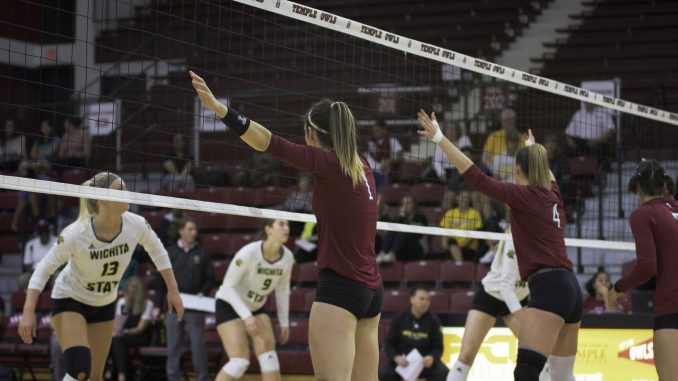 Temple's seniors wasted no time making their presence known on Sunday as the Owls jumped out to a six-point lead in the first set.
Seniors contributed to five of Temple's first seven points in the Owls' sweep of Memphis at McGonigle Hall on Sunday.
Senior outside hitters Izzy Rapacz and Irem Asci combined for 21 kills and 25.5 points in Temple's (5-5, 1-1 American Athletic Conference) victory.
"Izzy and Irem were both phenomenal, they've developed a lot and are filling their role as leaders and that's rubbing off on the rest of the team," coach Bakeer Ganesharatnam said.
Even though the Owls led early in the first set, Memphis brought the set within three points after a service error by freshman outside hitter Katerina Papazoglou. Temple followed up the play with eight of the next 11 points to win the set, 25-17.
Senior setter Kyra Coundourides assisted four of those eight points. She finished the match with a game-high 38 assists. Memphis only had 20 assists throughout the match.
In the third set, Coundourides assisted four assisted of Temple's last nine points to help the team take the third set, 25-15.
In a 3-1 loss to Wichita State on Friday, Coundourides had 59 assists.
"When we work together it helps Kyra out a lot," Rapacz said. "When she doesn't have to move around a lot it helps her distribute the ball more, and I think that was a difference maker."
Ganesharatnam said senior middle blocker Janine Simmons performed well at the net against Memphis.
Simmons contributed to three blocks in the match. She also had four kills and 5.5 points, which ranked fourth-best on the team.
Simmons ranks second in The American in blocks per set with 1.32. The only player ahead of Simmons is Rapacz, who averages 1.34 blocks per set.
The Owls will travel to New Orleans to play Tulane on Friday. Last season, Temple split its two matches with the Green Wave. In the Owls' three-set win on Nov. 6, 2016, Asci and Rapacz led the team in points, and Coundourides had 40 assists.
Ganesharatnam is looking for similar production from that game and Sunday's match against Memphis throughout the year.
"I thought Kyra did a phenomenal job all weekend distributing the ball," he said. "Izzy and Irem playing up to their abilities combined with everything else is what causes us to be so successful in these types of matches."