Four Temple University teams received honors from their respective conferences this week. The football, field hockey and men's and women's soccer teams topped the lists for best performances, which was announced on Monday, Sept. 24.

Football

Temple University defensive end Quincy Roche was named American Athletic Conference defensive player of the week.

This is the second straight week a defensive lineman for the Owls received the honor. Last week, graduate student defensive tackle Michael Dogbe was named defensive player of the week in The American for his performance against the University of Maryland.
Roche recorded eight total tackles, two of which were for a loss in Temple's 31-17 win over Tulsa on Thursday. The redshirt sophomore also recorded two sacks and two forced fumbles. His strip sack in the third quarter was returned by junior defensive tackle Karamo Dioubate for a 50-yard touchdown.
"[Roche] is just working very hard every day," senior cornerback Rock Ya-Sin said. "He is executing well, and playing at a very elite level right now."

Roche suffered an injury during Temple's game against the University at Buffalo, but battled through to play against Maryland and Tulsa, coach Geoff Collins said.

Temple's senior running back, Ryquell Armstead was also honored this week.

Armstead was named to the Paul Hornung Award Honor Roll for his efforts against Tulsa, in which he took snaps on both sides of the ball. The honor is handed out to the college football player who demonstrated the most versatility during the week. Armstead ran 24 times for 108 yards and one touchdown, while also recording one sack on defense.
Temple will travel to Chestnut Hill, Massachusetts on Saturday to play Boston College at 12 P.M.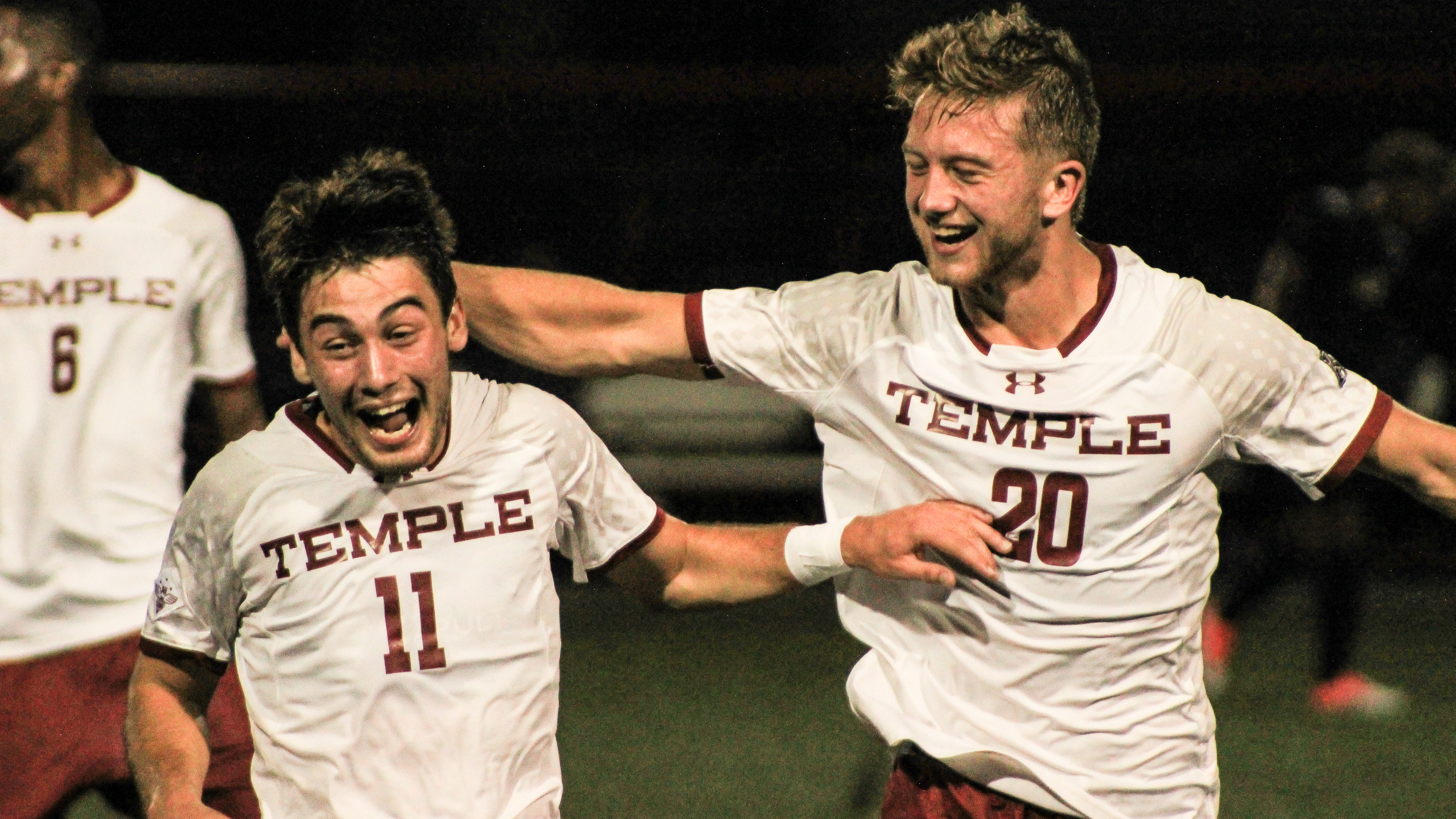 Men's Soccer

On Monday, the American honored two Temple men's soccer players for their performance against Central Florida on Friday.

Junior Simon Lefebvre received goalkeeper of the week honors, and junior forward Lukas Fernandes was named offensive player of the week on Monday.

Lefebvre recorded seven saves and a shutout Central Florida, while Fernandes scored the game-winning goal to propel Temple (3-4-1, 1-0 The American) to a 1-0 victory over Central Florida.

The 6-foot-9 goalkeeper holds the second highest save percentage in the conference at .815 percent. The junior goalkeeper is third in the American with 0.80 goals against average, trailing only Memphis junior goalkeeper Tyler Hoffman and Southern Methodist junior goalkeeper Grant Makela.

Fernandes is eighth in The American in goals with two on the season.

Friday was Lefebvre's second shutout this season, the first a 1-0 overtime win against Rider on Sept. 5th.

The Owls' next game is Wednesday when the Owls play Villanova at the Temple Sports Complex.

Women's Soccer

Freshman forward Gabriela Johnson recorded two goals in Temple's 3-2 overtime win against Houston on Sunday, including the game winner. She also recorded one shot on Thursday during Temple's 2-0 loss to Southern Methodist.

The American named Johnson conference women's soccer freshman of the week on Monday.

In the 95th minute, Johnson beat junior goalkeeper Samantha Cude to lift the Owls over the Cougars for their first conference win of the season.

The Owls will continue conference play on Thursday when they take on Central Florida.

Field Hockey

The Big East Conference named midfielder Kathryn Edgar to their field hockey weekly honor roll as she scored two goals and added an assist in two games last week.

With no time left on the clock, the junior converted a penalty stroke to give Temple a 2-1 win over Towson University.
Two days earlier, Edgar recorded one goal and one assist in a 3-2 overtime loss to Big East opponent Providence College.

Edgar was the first field hockey player to receive Big East weekly recognition this season.