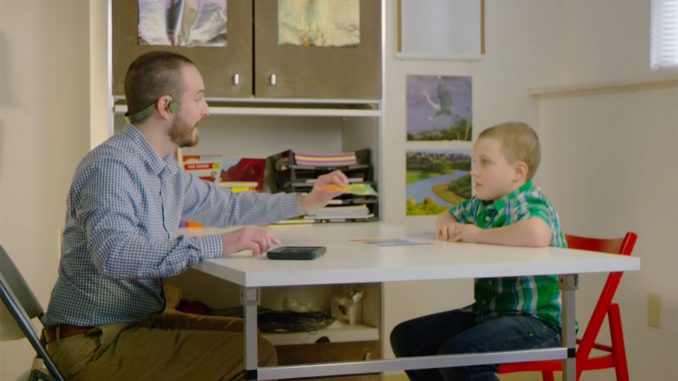 About a decade ago, John Nosek, a computer and informational sciences professor, researching to find a more effective form of autism therapy.
He founded the Guiding Technologies Corporation, which specializes in technology to help individuals with autism spectrum disorder get more effective treatment therapy.
Now, Nosek leads the Guidance Assessment and Information System program, or GAINS, to help professionals keep track of their clients' progress through technology. This software has received more than $1.4 million in grants.
Most recently, the National Science Foundation awarded the program $150,000 to integrate GAINS into individual education plans — which outlines a student's learning needs in special education at public schools — across the country.
The GAINS technology can be used on smartphones and tablets to record sessions with clients. This replaces the traditional method of taking notes by hand to measure children's progress. The technology allows instructors to provide clients with more hands-on therapy by avoiding the distraction of taking handwritten notes.
"We are trying to dramatically change [treatment methods] such that data recording is a byproduct of focusing their attention on the child," Nosek said.
Children who use the program had a 50 percent increase in performance, according to a university release.
This hands-free approach better facilitates the use of applied behavior analysis, which is the "gold standard" treatment for individuals with autism, Nosek said.
Nosek said having clients "mimic" the instructor through ABA techniques is a significant part of their therapy. Gradually, clients could be able to adopt these new behaviors, like raising their hands or brushing their teeth.
The hands-on approach that GAINS allows is the most effective treatment method, he added.
Another challenge is that oftentimes, children with autism are treated by several different therapists and professionals, each of whom focus on a different part of the child's development, Nosek said. Professionals who do not use GAINS do not have a way to transfer information to one another. When ABA is not streamlined across professionals, the child can have a harder time being successful.
"I initially started and focused on children with autism because there is a window where it is most effective," Nosek said. "If they get good, quality therapy they can do it, but we've been expanding such that we're helping individuals of all ages."
According to a 2014 Centers for Disease Control report, one in 68 children have autism spectrum disorders.
Professors from the CIS, special education and psychology departments are also involved in the project.
"We're addressing the global problem in a very unique and effective way," said Donald Hantula, psychology professor and member of the GAINS development team. "We're doing things that are making life better for children."
It is important when instructing autism therapy to be gradual, Nosek said. The instruction must be consistent and flow well.
"Patience is really important," said freshman music education major Ana Hughes-Perez, whose 16-year-old brother has autism. "If you're not patient enough, it's easier to get to a stressed or traumatic point. You can't be too strict."
Hughes-Perez added that her brother has never had the same instructor for more than a year. He often has at-home speech therapy, but is able to adapt well to the change in instructor as long as they are patient.
"When you're in a session with somebody with autism, obviously you want to give them your full attention, and writing things down takes away from that," Hughes-Perez said. "Once you get the ball rolling, you don't want to have to take breaks or write things down."
She also said the new technology incorporated into GAINS could be beneficial, even though her brother has improved with traditional therapy methods.
Nosek and his team will continue their research for GAINS to find better and more effective ways to overcome behavioral barriers in people with autism spectrum disorder.