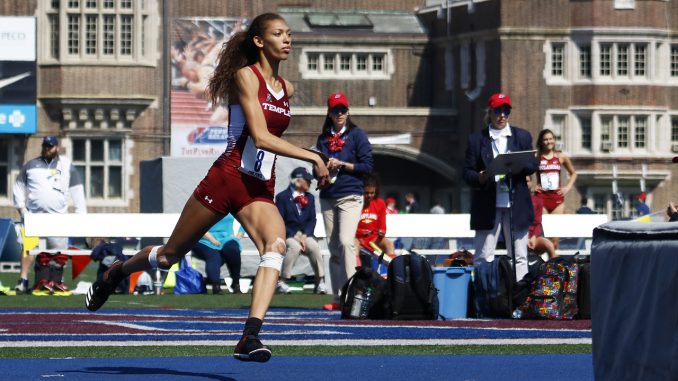 The other half of Temple University's track and field team competed at the Ole Miss Classic on Saturday afternoon. The distance crew competed at the Raleigh Relays in Raleigh, North Carolina while the throwers, sprinters and jumpers all competed at the University of Mississippi on Saturday.

Aisha Brown was the star of the day for the Owls. She competed in her top event, the high jump, and ended up taking the title. The sophomore cleared 1.76m on the bar to defeat Illinois State University's Kameesha Smith.

Brown finished in first place twice and second place once during the outdoor season high jump events. It was the Owls' lone individual win of the day.

Sophomore Julianne Foering got the day started for the Owls by competing in the javelin event. She ended up finishing sixth place overall with a distance of 39.00 meters, her furthest of the day.

The 1500-meter was the first running event for the Owls, and sophomore McKenzie Gelvin finished the event in fifth place. It was her only event of the day and she ran a time of four minutes, 41 seconds.

Sophomore Sydney Williams competed in two events on Saturday: the 100-meter hurdles and 400-meter hurdles. She ran the 100-meter in 14.66 seconds and finished in 12th place, and in 13th place in the latter with a time of 1:06.83 minutes.

Sophomore Kayla Nesbitt-McEwen competed in the triple jump and earned a top-10 finish. She finished in seventh place with a mark of 11.65-meters.

On Friday, Temple will host the second annual Temple Invitational at the Temple Sports Complex.