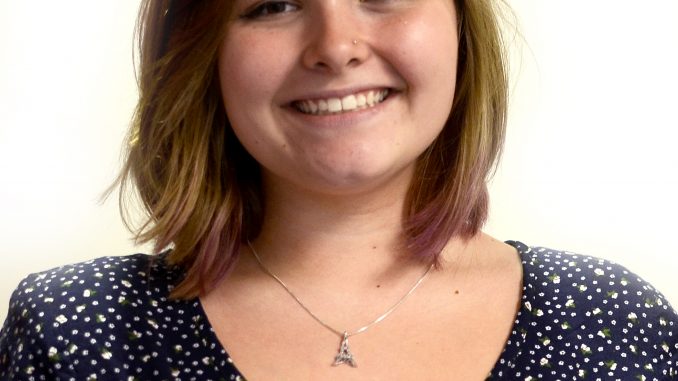 Among the steady clacking of wheels on tile and the howling battle between the wind and the side doors, a melody floated through The Gallery. It was something soft in the distance. Winding through the halls to Market East Station, the rhythmic guitar rifts became audible between breaks in loudspeaker announcements.
The source was just around a corner, smiling up at me as I pulled a dollar from my wallet. I stood back at first, admiring the gentle music the man busking for change in front of me was creating.
"Excuse me sir, may I sit with you?" I asked the man peacefully serenading the halls of the train station.
"Sit down, I have some friends coming soon," he said, never distracted from his strumming.
This man was Darrel Clark, the strings component of the three-piece ensemble Gospel Shouters. As 6 p.m. rolled around and the Friday night hustle began to pick up, the rest of the trio formed. Songbirds John King and George Biddings arrived shortly thereafter to compose a soulful three-part harmony to anyone who might lend an ear.
These musicians and longtime friends perform at City Hall and Market East Station regularly.
"I love it, the music is great," said Robert Sobolewski, who frequents the train. "I [see them] every time I come down here, four or five times a week."
I never hung around to listen for more than a song or two when I have stumbled into street performers. That's the unspoken stop-and-go culture of busking itself. And I've certainly never sat on the cold tile floor of a busy train station with said musicians in search of a new point of view.
What I found was that passersby donate an important element to street art. Not everyone hung around for the show. Over-the-shoulder smiles, snaps and steps to the beat paid a brief moment of acknowledgement to the art unfolding in front of them.
Granted, some pedestrians couldn't be bothered. They made their way through with eyes fixed firmly on the ground and stiff arms jammed in their pockets.
However, it was the crowd that stopped and stared whose reactions seemed to speak the loudest. The audience began with one man.
"I love this song," he said as he dropped a dollar into Clark's lunch bag. Intrigued, he stepped back, arms folded. The man watched with a steady nod of the head as King and Biddings sang classics like "Moon River" and Sam Cooke's "Cupid."
One man quickly turned into five men, then to a crowd. At least 20 sets of eyes gazed on as Gospel Shouter's songs echoed through the halls. There was dancing and signing, and looking on in what faces and video cameras described to me as awe.
"I loved it, I think the performance was awesome," freshman kinesiology major Christine Abbott said as she stood in the station with two fellow Temple students. "They're so good, that's what stopped us. [Breanna Fars] heard it, and she was like 'Can we go watch?' So we did, and they're fun to watch."
"I just love when I see people [busk]. It just intrigues me, and makes me smile," said Fars, a freshman public relations major. "I stood here smiling the whole time."
The donations came at a steady pace from the crowd that held 20-25 people captivated from start to finish. Faces constantly changed, only to be replaced with more curious ears. For Biddings however, performing is all about the music.
"Oh, we aren't just down here trying to make a hustle," Biddings said. "The donations just help get us where we're trying to go. We look at donations as a blessing for down the line. We're here getting exposure, and this is what we love to do."
The musicians became more engrossed in their soulful music as the crowd buzzed. King, the friendliest of the bunch, responded to the crowd's energy directly.
"Come on over here sister. I wont hurt you, I got my rabies shot!" King joked, reaching for a woman's hand. Reluctant and blushing, she laughed in refusal.
A voice called out from the audience, "Come on sister!" that found an echo in several onlookers. So she came.
King twirled her gracefully while vocalizing a reprise of "Cupid," to which she bashfully joined in.
"I love to come down here, and enjoy what I do," King said after returning the woman to her friends. "I'm an old man, and the audience can see us getting old, but we can still make the people jump."
Jumping and dancing to music in a public place is a bold statement of enjoyment, but that's the power of music. Every musical experience is unique to the individual and every reaction a story.
Closed eyes accompanied relaxed faces, ear-to-ear smiles and the occasional dancer. From the tile floor, behind the scenes of the performance it was a spectacular experience to watch the way music reaches it's listeners. Let's face it – everyone has a soft spot for good music.
"I believe that our goal is to sing to the people's souls who pass by," Clark said. "Maybe the individuals are having a bad day or whatever they have to go through, but the songs that we sing offer out some kind of hope."
Brianna Spause can be reached at brianna.spause@temple.edu.