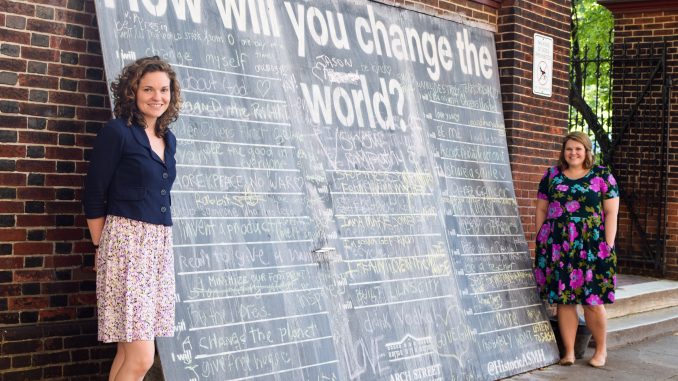 To educate Philadelphia residents about history, Lynne Calamia asked a single question.
Calamia, the director of the Arch Street Meeting House, a Quaker house of worship in Old City, placed two chalkboards in front of the building. Each board had the phrase, "How will you change the world?" stenciled across the top with spaces and chalk for passersby to write their responses.
The chalkboards went up on June 14, days after a gunman killed 49 people at Pulse, a nightclub in Orlando, Florida. "Assault rifle ban" was the first response written.
In 2015, the Pew Center for Arts & Heritage awarded Arch Street Meeting House a $60,000 grant to experiment with methods to engage new audiences.
Calamia wanted the grant to help fund initiatives, like this art experiment, to portray Arch Street Meeting House as an "incubator for social change," she said.
"Quakers are known for being suffragists, abolitionists and environmental activists," Calamia said. "Any social action Quakers were there from the start. That's something Quakers are proud of and something that's really pertinent to the times we are living in now."
Stephanie Williams, a graduate student studying public history, used the Arch Street Meeting House as a case study for her thesis on the intersection between public art and public history.
"Compared to a place that already has people coming in everyday, this is drawing people's attention and making them stop [to look]," Williams said.
"We want to inspire people to be empowered to make their own change," Calamia said. "It's not saying, 'Will you make change?' It's saying, 'How will you make change?'"
Calamia was inspired by artist Candy Chang's original chalkboard-painted wall in New Orleans. As an experiment, Chang stenciled the phrase "Before I die…" at the top and left spaces and chalk for community members to write responses in 2011.
Since then, more than 1,000 "Before I die" walls were recreated in 35 languages and in more than 70 countries.
The wall is meant to look like a "work in progress," Calamia said, "not perfect."
At first glance, it is apparent people of varying ages and beliefs wrote on the chalkboards. On one line, "have fun" is scrawled in the clumsy handwriting of a child. A few spaces above, "respect myself and others" is written in a slim, exact type.
Calamia said she hopes the chalkboard wall will "get the community to care about this building that they previously haven't cared about."
Arch Street Meeting House, a National Historic Landmark, was built in 1804 and holds a weekly service for Quakers to this day. During the week, visitors can take a tour of Arch Street Meeting House to not only learn about the building itself, but the history of Quakers in the city.
Many Quakers are prominent figures in American and Philadelphian history, though not often spoken about.
"Philadelphia was known as the Quaker city," Calamia said. "There's quakerism on every corner if you know what you're looking at between street names, the way the streets are and there's even William Penn on top of City Hall."
Besides funding the chalkboard project, the grant supported Arch Street Meeting House's prototyping sessions, which evaluated things like the length and route of tours, to gauge visitors' experience in the building.
Calamia's main focus as director is engagement with the surrounding community.
"I think about what people get when they walk in the front door," Calamia said. "This is an unfamiliar religious building and we don't want people to feel weird."
"I want to energize this community," Calamia added. "Tourists, locals, people walking by here on their way to work, young and old."
Grace Shallow can be reached at grace.shallow@temple.edu.