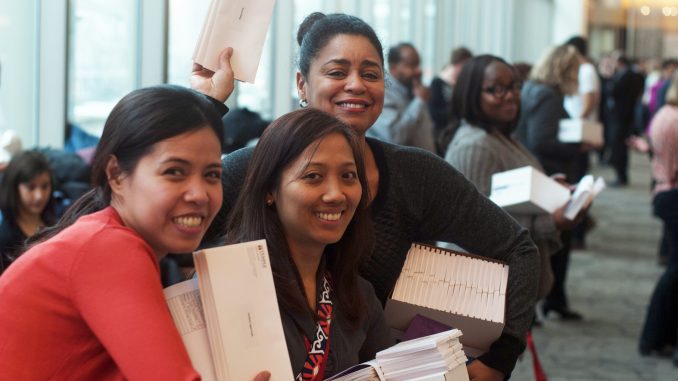 More than 200 students were in attendance at "Match Day," the School of Medicine's annual event where students learn which hospitals they will conduct their residency, a stage- of medical training.
Dr. Larry Kaiser, dean of the School of Medicine, started a countdown at Temple's Medicine Education and Research Building at Broad and Tioga streets on March 20 around 11:45 a.m., and students received envelopes containing the institution they would attend. At noon, the soon-to-be graduates opened them, revealing where they would be studying for the next couple of years.
Kaiser said the event is a culmination of a process between students and institutions that might be interested in admitting them for  post-graduate studies.
"The students submit a list of their preferred places to go, and each institution puts their list together as to who they want," Kaiser said. "The place that the student ranks the highest on their rankings is where they go."
Kaiser added that colleges across the country participate in "Match Day," and that the event signifies a key part in medical students' lives.
"It's the culmination of four years of college, four years of medical school, [and often] more than that," he said. "This is the start of the rest of their life. This will determine what these people do for the rest of their lives."
One student, Ekene Ajufo, said she will be attending her top choice of Cooper University Hospital in Camden, New Jersey to study pediatrics.
"I'm super happy and surprised," Ajufo said. "I'd had nightmares up to this point, scared that I'd match somewhere different than what's on my list. For me to get what I wanted is amazing."
She added that she didn't choose pediatrics until late in her medical school career.
"It was the last rotation of my third year [of studies]," Ajufo said. "I thought I was going into a different field, but I saw the kids and I loved them. I had a great rapport with parents … and I realized this is what I wanted to do with the rest of my life."
Barbara Levis, mother of student Kelly Levis, said her daughter specialized in ER at Temple, and was placed at Staten Island University Hospital.
She added that Staten Island wasn't her daughter's top choice, but also that she was excited for her daughter's future studies.
"I'm absolutely excited," Barbara Levis said. "She has so much potential to touch people's lives in the ER, and apply everything she learned at this wonderful medical school at Staten Island."
"It was so nice to see all the support of the families here," she added. "Even these wonderful people who had families through medical school, it was wonderful to see all of their support."
By continuing her medical career, Kelly Levis is following in the footsteps of her father Dr. Robert Levis, who is a professor in the Department of Chemistry and the chair of Temple's Center for Advanced Photonics Research, which "focuses on understanding the photochemistry and photophysics of molecules interacting with ultra fast, ultra-intense laser pulses," according to its website.
Kaiser said that the magnitude of the day creates a powerful atmosphere, as hundreds of students find out whether they are qualified to study at their top choice.
"It's very emotional," Kaiser said. "You're banking to get to the place you want to go. Some people are disappointed, and some people are ecstatic … there's a lot of passion that these students have put forward to get to this level, and may the passion continue as they seek out their chosen careers."
Steve Bohnel and Trista Glover can be reached at news@temple-news.com.