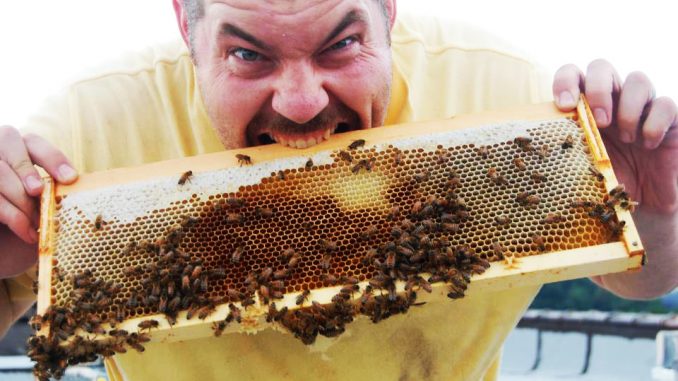 For Philadelphia Beekeepers Guild President, Don Shump, the notion of sticking his face into a hive of 60,000 stinging insects is "kind of a rush."
The guild held its fifth annual Natural Beekeeping Symposium on Feb. 8 on Main Campus. This marks the first time Temple hosted the symposium.
At the symposium, Katy Ciola Evans of the University of Delaware spoke about her study of treatment-free beekeepers. Famous beekeeping author Ross Conrad spoke to an audience of mostly beekeepers about his latest book, "Natural Beekeeping."
Beekeepers from all over the city met with different vendors throughout the symposium.
A former web developer, Shump is now a full-time beekeeper. Shump said being a web developer was enjoyable, but knew he wanted to be in a different line of work.
"I felt like I was wasting my natural talents, sitting at a computer for 40 hours a week, watching my waistline and blood pressure go up," Shump said. "I am really fortunate to make beekeeping, something I am passionate about, my job."
Shump is the owner and operator of Philadelphia Bee Company, specializing in seasonal varietal honeys and chemical-free bee removals.
Shump said the reason he loves beekeeping is because there is never a boring day at the office – humans have still yet to master the art of beekeeping.
"Humans have been messing with bees for over a thousand years and we still do not have a handle on how they work," Shump said. "I could study bees the rest of my life and not learn everything about them – that is awesome."
Even after getting stung 50 times in one sitting, Shump said that is not enough to make him quit beekeeping.
Shump added that the Symposium shows citizens how important beekeeping is to Philadelphia.
"Thomas Jefferson wrote about bees and how Indians referred to them as the 'white man's flies,'" Shump said. "Even George Stenton kept bees and used them for experimentation."
In fact, the beehive originates in West Philadelphia, where Lorenzo L. Langstroth built the first man-made hive in 1851. The Philadelphia Beekeepers Guild said Philadelphia is the "cradle of American beekeeping."
While visiting his daughter at school,  the guild's vice president, David Harrod, saw a bee hive exhibit in the library and suddenly became interested in bees.
About five years later, Harrod started with one hive that he kept in the Roxborough neighborhood of Philly.
Today, Harrod is one of the founders of the Philadelphia Beekeepers Guild.
"People from all over the area come to hear the speakers, we try to get pretty well known authors and beekeepers," Harrod said. "It is just a good time to have people come together and network, meet new people and talk about bees."
By having the symposium, Harrod said he wants to inspire more people to develop a similar passion for beekeeping.
"The first thing that drew me to beekeeping was that being an environmental educator, the news is pretty consistently bleak," said Karen Cherubini, one of the newest board members of the guild. "I felt like this could be a way I could be a part of making a difference."
Cherubini, a 1995 Temple grad, is also a science teacher. Cherubini said that events like the symposium provide an opportunity for the guild to reach out to the community and inspire others to pick up the guild's trade.
As a member for four years, Cherubini said the number of beekeepers is growing in Philadelphia.
"Beekeeping is not for the easily discouraged," Cherubini said. "Pollinators are a big part of our success in the city."
Shump said he feels that anyone who has a slight interest in beekeeping should not hesitate to be involved.
"Whether you are a beginner beekeeper or an experienced beekeeper," Shump said, "this is something you want to get out and see."
Connor Northrup can be reached at connor.northrup@temple.edu