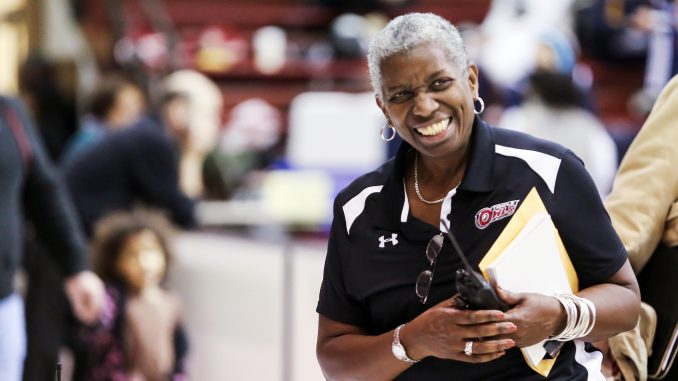 A report released this month to coincide with the 45th anniversary of Title IX's passage into law evaluates the race and gender diversity of women's sports coaches in eight conferences, including the American Athletic Conference.
The study was conducted by The Institute for Diversity and Ethics in Sport at Central Florida, Tucker Center for Research on Girls & Women in Sport at the University of Minnesota and LGBT SportSafe — a program "developed to create an infrastructure for athletic administrators, coaches and recreational sports leaders to support LGBTQ inclusion in college, high school and professional sports," according to its website.
The American, Power 5, Big East Conference and Ivy League were evaluated and recognized based on race and gender inclusion. LGBTQ inclusion initiatives were considered at the conference and institutional level.
Temple is one of the eight institutions that have joined the LGBT SportSafe Inclusion Program since its founding in June 2016. The university earned the highest possible certification, gold, which is evaluated based on programming, public awareness and policy initiatives "to help ensure student-athletes, coaches and administrators of all sexual and gender identities are valued, respected and included in the athletic department."
Temple ranked third among the 94 schools sampled for its racial composition of head coaches of women's teams with 45.5 percent being people of color. Public and state-related universities tend to have more diverse coaching staffs, TIDES director and founder Richard Lapchick wrote in an email.
The American earned a B with 18.2 percent coaches of color — making it the only conference to get above a C grade for diversity.
The American, where 47.3 percent of coaches are women, earned a C for gender inclusion. Only the Ivy League received above a C with a grade of B.
Temple was not among the top 10 institutions in percentage of women coaching women's teams. The university earned a B with six of 11 women's sports teams being coached by women, Tucker Center co-director Nicole LaVoi said. Cincinnati and Central Florida topped the list at 80 percent.
Four conferences were awarded Fs for gender inclusivity, and the group of eight conferences collectively earned a D+ for racial composition. The eight conferences earned a C in gender makeup of coaches.
"The bottom line is that the systems that women coaches exist in have a number of barriers for them to navigate in their coaching careers," LaVoi said. "There's a lot of layers to the barriers, from societal to organizational, to interpersonal, to individual level barriers."
"This report shows that equity in these eight conferences is far from being achieved regarding the hiring of women and people of color as head coaches of women's team[s]," the study concluded.
Evan Easterling can be reached at evan.easterling@temple.edu or on Twitter @Evan_Easterling. Follow The Temple News @TheTempleNews and @TTN_Sports.