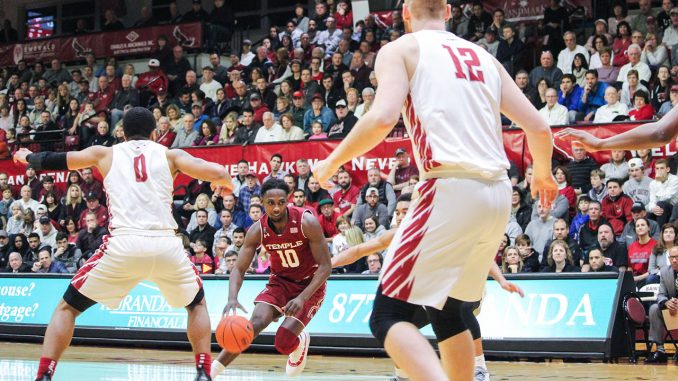 Wednesday will mark the six-year anniversary of the last time Temple University beat Villanova in men's basketball.
Temple (7-1, 2-0 Big 5) last defeated Villanova (6-2, 1-0 Big 5) on Dec. 5, 2012 at the Finneran Pavilion. Villanova hasn't lost a Big 5 game since the Owls' 76-61 win.
The Owls will travel to the Finneran Pavilion on Wednesday to face the Wildcats in their biggest game this season. Temple will face the defending Division I champions, play their first game against a ranked team and potentially pave a path to win at least a share of its first Big 5 title since the 2012-13 season.
If the Owls beat Villanova, they'd enter their Jan. 19 game against Penn undefeated against Big 5 schools.
"Knowing that it's coach [Fran Dunphy]'s last year, we want to give him a Big 5 title, and me being from Philly, I want a Big 5 title myself," senior guard Shizz Alston Jr. said following Temple's 77-70 road win against Saint Joseph's on Saturday. "Just going in there with that on our minds, that's one of our goals to check off the list this year."
This season, Villanova, who is ranked No. 21 in the Associated Press Poll, isn't as formidable as the teams that won two of the past three national titles, making a win obtainable for Temple.
Villanova's two losses were both at home. The Wildcats lost to the University of Michigan by 27 points on Nov. 14 and suffered an eight-point overtime loss to Furman University in their next game. Michigan and Furman are ranked No. 5 and No. 25 in the AP Poll, respectively. Vegas oddsmakers largely predicted Villanova to win both games.
On Saturday, the Wildcats trailed at halftime against a winless La Salle team before securing an 85-78 victory.
"Not in their absolute style that they play, a lot of the same structure is in place," Dunphy said Monday. "Obviously they have different players, but still very talented guys. They're playing about the same way they've always played."
Last year, the Wildcats blew out Temple at the Liacouras Center, but most of their main contributors are on NBA rosters now. In the Villanova's 87-67 win on Dec. 13, 2017, Jalen Brunson, Omari Spellman and Donte DiVincenzo accounted for 70 points on 26-of-36 shooting from the field.
Spellman, DiVincenzo and former Villanova forward Mikal Bridges were all selected in the first round of the 2018 draft, while Brunson went in the second.
Temple can win because it has the ability to avoid the late-game pitfalls it succumbed to last year.
Seven of Temple's regular-season losses were decided by seven or fewer points. The Owls are 3-1 in such games this year, including their last two wins.
"Hopefully, it shows that we have some grit," Dunphy said. "It's a toughness that hopefully we are gathering and can use as we go out the rest of the season, but I'm hoping that we are getting to being a pretty tough basketball team."
Temple defeated the University of Missouri on Nov. 27 after the Tigers trimmed their 12-point second-half deficit to two with 15 seconds left.
At Hagan Arena on Saturday, the Owls trailed by eight points at halftime before a strong second-half comeback secured the victory against Saint Joseph's.
"If you said that you were going to have a really good record playing city games, then you are probably going to have a pretty big season," Dunphy said.
Dunphy is right. In 2012-13, including their win against Villanova, the Owls started 8-2. They shared the Big 5 title with La Salle and earned an NCAA Tournament bid before the season ended in the second round.
The Owls' 7-1 start this season is their best since the 2012-13 season. Beating Villanova on Wednesday could help put the Owls on a similar path.
"[I am] just trying to do everything I came to college wanting to do now," Alston said. "I haven't got a Big 5 [title]. …This year, I'm trying to check off all my goals and help my guys win as many games as possible."
CORRECTION: A previous version of this story misstated Furman University's national ranking.