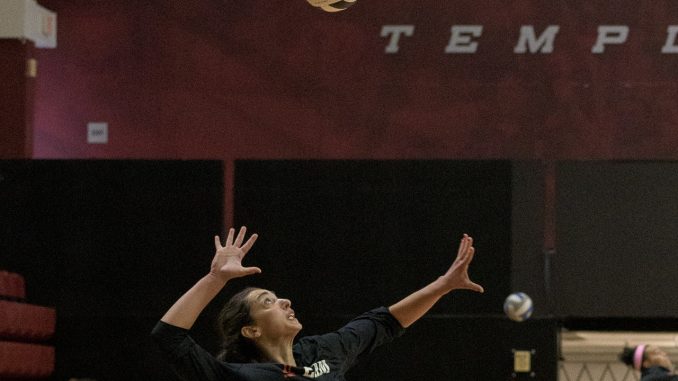 Temple University Volleyball won all three of its matches at the American Classic in Washington, D.C. this past weekend. Temple (6-0) is off to its best start since 2014.
Temple-Ohio
Temple opened up tournament play with a pair of victories on Friday. The Owls defeated Ohio University (3-4), 3-2, in a thrilling opening match. 
Both teams started out slow on offense in the first set, with Temple's .156 attack exceeding Ohio at .091 to win it 25-22. Ohio took set two, 25-20, taking control of the match with a 5-1 run in the middle to tie it at 1-1. 
The Bobcats jumped out to a 3-1 lead in the third set with a convincing 25-20 win. The two were tied at 20-20 in the fourth set when a huge block from senior outside hitter Dana Westfield and freshman middle blocker Kayla Spells sparked Temple. The Owls closed out the tight set, 25-23. 
In the fifth set, Ohio led 7-5 at the halfway mark, before a 9-3 run by the Owls put them up 14-10. The Bobcats cut it to 14-12, but sophomore outside hitter Miray Bolukbasi came up clutch with a kill to seal the win for Temple.
Sophomore outside hitter Gem Grimshaw was one of three players to notch double-doubles, leading Temple with career highs of 20 kills and fifteen digs. Sophomore setter Tyler Lindgren also had a career day finishing with 49-assists and a double-double. 
Temple-Winthrop
Temple swept Winthrop University (3-3) in its second match of the day with a 25-18, 25-20, 25-12 win. 
Temple got hot early, kept its momentum throughout the match and improved its record to 5-0. The Owls hit .284 for the match, holding the Eagles to a .073 attack.
In the first set, Temple opened on a 5-0 run, pushing the advantage to 12-3 early on. Winthrop closed the gap late in the frame, making it 24-18, but a Gem Grimshaw winner gave Temple a 25-18 win. 
Winthrop led early in the third set, but Temple took over the advantage at 9-8. From there, it was all Owls, as they closed the match on a 16-4 run. 
Grimshaw led all players with 15 kills, while junior outside hitter Katerina Papazoglou added 10 kills and 10 digs for her first double-double of the season. Spells and Westfield each added six kills, while junior middle hitter Baleigh Jean-Phillipe notched four kills and a team-high five blocks.
Temple-American
The Owls closed out the tournament with a 25-19, 25-23, 25-20 sweep of host American University (3-3) on Saturday. 
The first set was all tied at 18-18 before the Owls went on a 7-1 run to close out the set 25-19.
Temple used a run midway through the second set to open a five-point lead at 14-9, but tight serving from the Eagles cut the lead to two. 
The Eagles tied the match at 20-20 and again at 23-23. Temple then finished it out, as a Papazoglou kill and an American error gave the Owls a 2-0 match lead.
Grimshaw led the way with 13 kills and 11 assists. Papazoglou finished with nine kills and tallied a season-high 15 digs.  
Lindgren and junior defensive specialist/libero Averi Salvador both earned all-tournament honors. Salvador was named the AVC Tournament MVP after leading Temple's defense with 5.27 digs per set in three matches. She also grabbed her first career double-double. 
Lindgren averaged 9.18 assists per set while showing her all-around game with four digs per set, and a pair of double-doubles.
Temple will host the 2019 Hilton Philadelphia at Penn's Landing Cherry & White Challenge next weekend at McGonigle Hall.