It took nine games, but the volleyball team was finally able to play in the newly renovated gym at McGonigle Hall.
The Owls hosted the annual Temple Invitational, going 2-1 with wins against Delaware State and Brown and a loss in the final match against Hofstra.
"It was very comforting being at home," coach Bakeer Ganes said. "We have some great facilities. I would have liked to be at home more early in the season but with the schedule it didn't work like that. We need to get more students at the game though to establish a home court advantage with our conference games coming up. I think it really does help the girls."
Gabriella Matautia and Sandra Sydlik took home all-tournament team honors. Matautia was also recognized before the match for getting her 1,000th career kill last weekend against the University of Pennsylvania.
"I didn't know I was going to get recognized so that was really nice," Matautia said. "My dad was able to watch so that was special to me. Being able to get 1,000 kills in my four years is awesome."
"If you can finish a career with over 1,000 kills, that is an amazing accomplishment," Ganes said. "I am very happy for her, she is such a big part of our offense and she deserves every award and recognition that she gets."
Sydlik not only led the team in assists this weekend but also led the entire tournament. Her 67 assists on Saturday against Brown and Hofstra followed the 25 she had on Friday against Delaware State.
"I am happy I was able to get all-tournament team honors," Sydlik said. "But I would have rather not gotten those honors and won the tournament as a team. I feel like the most important thing is that I am meshing well with [Matautia] and getting more and more comfortable out on the court."
"[Sydlik] has been doing a very good job," Ganes said. "She is very consistent with running our offense. We have two really good setters. It is like having two really good quarterbacks. We feel really comfortable with [Sydlik] setting up the offense."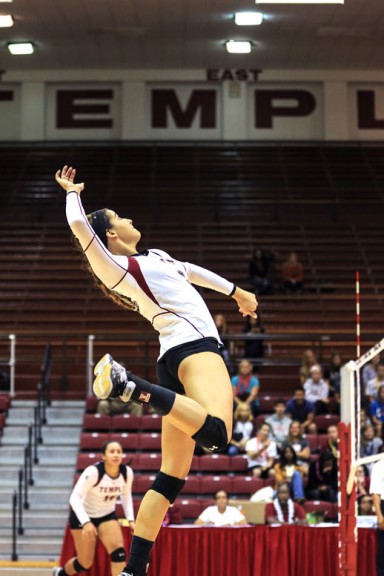 Temple won its first two matches of the weekend, but did not play consistently against Hofstra (9-5), causing the Owls to finish as a runner-up at their own tournament.
"I thought that Hofstra played really well against us, so I am fine with where we finished," Matautia said. "After wins or losses, I am not too concerned with our record, but instead concerned about making progress with this team. I think we are at the stage where we can take the next step. We have some really exciting match-ups coming next weekend and hopefully we can raise our game and take that next step."
"We are up and down too much, we need to stay at one level, as well as reducing errors and executing what we need to get done," Matautia said. "The group we have been playing with has been working, it helps that we have such a big block. [Sydlik] has been doing really well, and if we continue to work and get better it's going to be great."
Conference games start Sept. 27 as the Owls take a road trip to the mid-west to take on powerhouses Cincinnati and Louisville in their first games in the American Athletic Conference.
"I think we have a good team with a lot of potential, but we have to acknowledge that and be confident in what we can do," Ganes said. "It's almost like we are not really aware of how good we are. It's not an accident that we are 9-3. We need to be proud of that. We need to create a mindset and body language that we are a good team."
Rich Fogel can be reached at rich.fogel@temple.edu or on Twitter@RBFogel26.