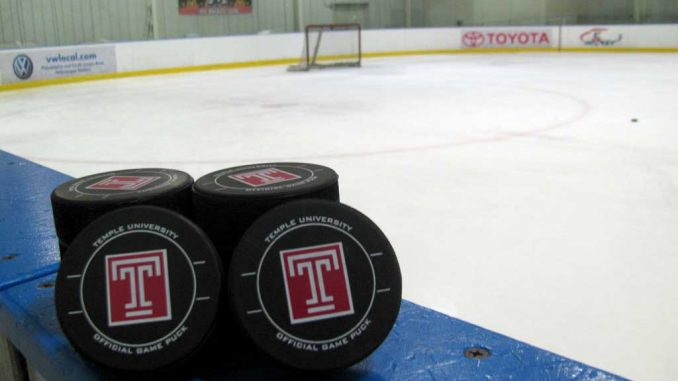 Ryan Frain sent his Owls an email on April 23.
The coach was quitting after two seasons with the club because of time constraints brought on by his job as a marketing specialist with Farmers Insurance, as well as his personal life.
"I guess the time commitment that I needed for my full-time job and then the time that was required and needed," Frain said. "I guess I kind of explained to the guys in a farewell email and I told [general manager Jerry Roberts] over the phone that I couldn't do this anymore."
Thoughts of resigning started swirling around in Frain's head during the middle of last season, as he thought about his future with the club. The club was 8-7 and the chances of ending the Owls' three-year drought of making the American Collegiate Hockey Association Regional playoffs looked bleak.
"It was a harsh reality that I didn't want to accept," Frain said of his thoughts about his future. "Because I would have to be walking away from a good thing and something I loved, which was coaching."
Frain was named Temple's coach on May 25, 2013, after spending two years as an assistant coach under Roberts, who left to spend more time with his family.
In his first season, the Owls won seven of their first 12 games while scoring nearly five goals a game.
The hot start did not last, as the team went 4-6 in the last 10 games of the season. The Owls were eliminated in the first round of the Mid Atlantic Hockey College playoffs, finishing the season with a 12-9-3 record.  Frain admitted prior to last season he was too friendly with the players in his first season.
"I saw that did not work at all," Frain said last summer. "I think that is one of the big things this year, that I am going to hold everyone accountable regardless if they are our leading scorer or just a role player."
The Owls jumped out to four straight wins in the beginning of Frain's final season, but the team struggled through a six-game losing streak following the hot start and eventually finished 16-10-2.  A three-goal rally by Rowan University in the MACH playoffs ended Temple's season.
The playoff loss, coupled with the announcement of his team missing the Regional playoffs days later, left Frain searching for answers. After talking with his friends and family about his decision, the Owls' coach sent his players the email informing them of his intentions.
"I didn't necessarily expect him to step down after a few years," defenseman Patrick Hanrahan said. "It was a shorter stint then I expected, but we're thankful for that time that he managed to coach and especially as a player."
Frain said his hectic schedule left him with feelings of resentment toward going to the ice rink. But he hopes it was a feeling his players could relate to.
"You have your times where I am sure the players could say the same thing where they don't want to show up to the rink on any given day because you've had a long week or long day and you have other stuff to take care of, but that is something I committed to," Frain said. "I wanted to put those guys in the best position and I was never [going to] leave them high and dry in that sense by leaving in the middle of the season. I knew it was my responsibility to keep pushing forward and try to put them in the best position to win and make regionals throughout last year."
Frain, who played for the Owls from 2006 to 2011, has his No. 8 jersey retired by the team and is the all-time leader in goals, assists, points and games played with 99, 102, 201 and 178, respectively.
"He put 100 percent in and he wanted to win more than anybody I ever met in this organization," Hanrahan said. "Since I came in as a freshman with him on the bench as an assistant coach, he always had that fire behind him and that is something night in and night out he brought to the rink."
Hanrahan is also the team president and is working with fellow defenseman Jason Lombardi, Roberts, former captain Greg Malinowski and Temple Campus Recreation to decide on a coach in the next two weeks.
Frain coached forward Stephen Kennedy and Hanrahan to the ACHA Division two all-star challenge and Kennedy was also the MACH Most Valuable Player last season. This has given Frain the confidence that coaching could return again in the future.
"I mean honestly it was a great ride," Frain said. "I love the club. I am still friends or best friends with a ton of guys that I either played with or I coached. They are memories of it I will never forget."
Stephen Godwin Jr. can be reached at stephen.godwin@temple.edu or Twitter @StephenGodwinJr.