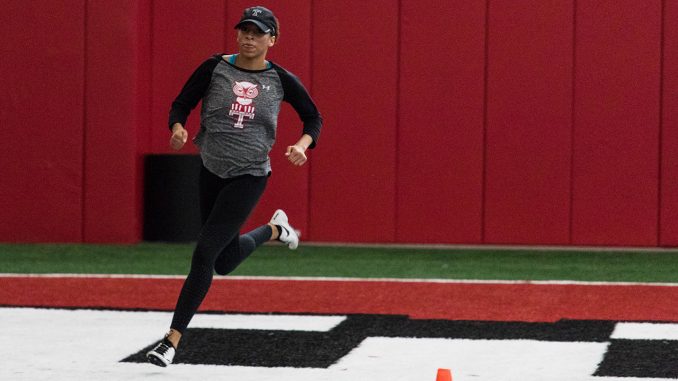 Temple will head to Birmingham, Alabama, for this weekend's 2018 American Athletic Conference Indoor Track and Field Championships.
The women's pentathlon, long jump, pole vault, weight throw and distance medley relay finals will be on Friday. The finals for the high jump, triple jump, shot put and all track events, like the mile and 4-x-400 meter relay, will be on Saturday at the Birmingham CrossPlex.
"Our physical preparation is going to be the same as it was at the start of the year," junior co-captain and multis competitor Crystal Jones said. "We really don't want to get away from what we've been doing all year. Right now, the only difference in preparation would be that we need to be more mentally ready this year and make sure we're focused on what we need to do right."
Last year, Central Florida won the meet with a total of 122 points after finishing in third place in 2016. The Knights beat second-place Cincinnati by just two points last season.
Temple has struggled in the past two championships. Two years ago, the Owls finished in eighth place with 44 points, and last year they only managed to gather 17 points to rank 10th out of 11 teams.
Temple finished just two points ahead of last-place South Florida.
"Last year, we weren't as healthy and had to fight through more injuries compared to this year," Jones said. "Going into it this time around, we're a lot stronger physically and mentally, and everyone's a lot healthier. From the freshman class to the senior class, we've improved a lot since the beginning of the season."
In last year's meet at the same venue, Jones placed second in the pentathlon. She won the pentathlon high jump by beating Cincinnati multis competitor Naomi Urbano, who won the entire 2017 pentathlon as a sophomore. In the pentathlon 800 meter, Jones finished second behind Urbano with a time of two minutes, 26.58 seconds.
Four Owls earned personal bests at last year's meet, but others struggled. Former sprinter and jumper Jimmia McCluskey placed last in the 60 preliminaries and the long jump finals. The distance medley squad placed eighth out of 10 schools.
The freshman class this year has performed well for coach Elvis Forde throughout the season. Contributions from jumper Aisha Brown, sprinter Mallorie Smith and hurdler Sydney Williams have helped elevate the class's confidence heading into The American's championship meet.
Smith placed second in the unseeded 200 at the Fastrack National Invite on Feb. 9 in New York. Williams helped the 4-x-400 relay team place second at the Penn State National on Jan. 27 and placed second in the 400 on Feb. 9.
Brown won the individual high jump competition with a height of 1.7 meters on Feb. 3 at the Villanova Invite. Forde called her victory a "pleasant surprise."
"Individually, I feel like my jumping has gotten a lot better in my first season, and I've competed very well this season," Brown said. "Being a freshman, it can almost be easier because there's not as many expectations on us so far. I really do feel like we're going to compete at a high level."
Forde expects the weekend to be competitive, and he wants to see his athletes "raise the bar a notch" to be able to get the finishes they want.
The team will likely practice more strenuously earlier in the week than it will as the meet becomes imminent, Brown said.
"Practice may change, but technically we don't want to make any changes close to the meet," Brown said. "We're where we want to be at right now, and we want to peak at conferences."
This year's squad has high hopes for a better performance than in past years. Temple's best finish in the indoor conference meet since joining The American is its eighth-place mark in 2016.
"We feel really good going into it," Jones said. "The upperclassmen are performing well, and the freshmen have learned a lot from them and are competing very well also. We're all ready to elevate our games and get better when those competition days come around."