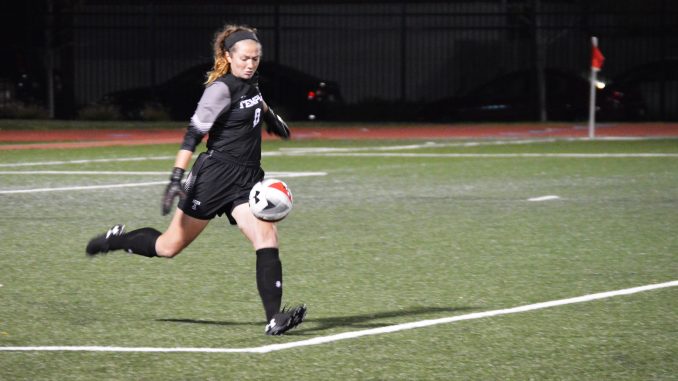 As Thursday night's game crossed into the 31st minute, sophomore goalkeeper Morgan Basileo made back-to-back saves to keep East Carolina off the scoreboard.
East Carolina junior midfielder and forward Courtney Cash handled a cross from the far corner and headed the ball toward the top left corner of the net. Basileo knocked the ball down with both hands. Off the rebound, East Carolina forward junior Chentay Warnes took a shot with her right foot. Basileo ran across the net to reach out and knock the ball down.  
The two saves helped Temple (5-4-1, 1-0 American Athletic Conference) earn a 1-0 win at the Temple Sports Complex. The Owls won their first conference game in more than a year after finishing 0-9 in The American last season.
"I thought goaltending was great tonight," coach Seamus O'Connor said. "The other team is always gonna create chances, and Morgan did a great job of responding to the pressure they put on."
Basileo, who made her sixth start of the season, earned her fifth shutout She faced 10 shots and saved six.
Thursday's performance increased Basileo's save percentage to 0.926 and improved her record to 4-1-1. She has a 0.35 goals against average in 2017.
At the start of September, O'Connor said he has "two starting goalies" in Basileo and junior Jordan Nash, who started 18 of 19 games in 2016 and the first four games this year.  
After not playing as a freshman, Basileo is taking advantage of her opportunity.
"I told Morgan that it's hers 'til she gets injured or underperforms," O'Connor said. "But it's hers to lose, and she continues to rise to the occasion and her teammates really have a lot of confidence in her."
"I'm gonna handle it the same way I've always handled it," Basileo said. "Show up, stay healthy and keep hitting the weight room. As long as I continue to do those three things, it puts me in a good mindset moving forward."
Basileo has faced an average of 10.5 shots per game in her six starts, nearly two shots less than Nash did in her five appearances. In her last 225 minutes of action, Basileo has faced 10 shots on goal, or an average of four per 90 minutes — a number that would rank on the low end of Division I's 333 teams.
Temple has two-way strikers and good team depth, which helps the team adjust to different offenses, Basileo said.
"Obviously I wouldn't be who I was without my defense," she added. "They played really well tonight and whenever they play well it helps me play well."