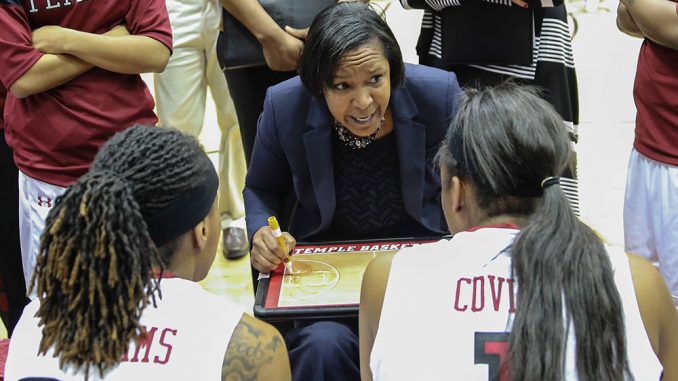 The head coaches of Rutgers and Connecticut are not simply the opposition for Tonya Cardoza. 
"As a coach, we look to them and want to mimic and follow the footsteps and try to build our programs to be elite just like them," Cardoza said. "They're like mentors."
In the American Athletic Conference, members of the team are embracing the opportunity to face Rutgers and UConn due to the admiration of legendary coaches C. Vivian Stringer and Geno Auriemma, respectively.
With the Owls going through their first season in The American, Temple has been assigned new conference opponents with decorated histories – none more decorated than the Scarlet Knights and the reigning national champion Huskies. The Owls played Rutgers on Jan. 25 and will host UConn on Tuesday, Jan. 28.
"It's a great experience," freshman center Taylor Robinson said. "As a freshman, it's like a dream come true, being that we play against the best of the best, and being in this conference."
Stringer has the third-most victories in women's collegiate basketball history, leading three different programs to the NCAA tournament's Final Four in the process. Stringer is also widely regarded as a trailblazer for African-American coaches in college basketball.
Cardoza noted Stringer as a coach that she has admired throughout her career as a player and a coach.
"She's like the pioneer for us," Cardoza said. "She's a Hall of Famer. She's done it all. She's someone who I think is well-respected around the game. When I was coming up, I wanted to play for her. She's just someone who is a great motivator."
"Young African-American girls look up to her, as well as African-American coaches," Cardoza added. "We have a role model in her. She's shown us the way that it's doable. I'm proud of her."
UConn's Auriemma has earned the NCAA crown in three of the last five seasons, including consecutive undefeated seasons in the 2008-09 and 2009-10 seasons. Overall, UConn has won eight national titles in Auriemma's 28 years at the helm, and in 14 of those years, Cardoza played the role of Auriemma's assistant coach.
"I learned so much from just being around him," Cardoza said. "Not just as a coach, but as a person. It's been an honor to say that he's a friend, he's a mentor and someone that will always be in my life."
For Cardoza, facing two of her coaching idols adds more significance to games against new conference foes Rutgers and UConn. As a head coach of six years, Cardoza acknowledged that the extensive tenures of Stringer and Auriemma serve as blueprints to her coaching success.
"I understand what I'm up against," Cardoza said. "I know that they've been in the game for a very long time, and I learn from them. They're people that you can learn from, so I look up to them, but I would never compare myself to them. I try to take from them whatever I can."
The Hall of Fame coaches are also role models for young players who aspire to become coaches themselves. Robinson and junior guard Rateska Brown, who both hope to be basketball coaches one day, view the opportunity to play against Auriemma- and Stringer-coached teams as a special privilege.
"It's a blessing," Brown said. "As we play the game, we also analyze the ins and outs of things. We get better at basketball. Playing against elite coaches, it's inspiring. At the end of the day, I'm learning, and I would like to boost up my IQ while I'm playing the game. It's something to be grateful about."
With Brown, Robinson and other young coaching hopefuls looking to established coaches for direction, Cardoza said it's important for her to set a positive example for future coaches, providing them with the tools to succeed as Auriemma and Stringer provided her.
"We're here to be role models to them and we want to be able to help," Cardoza said. "So, knowing that that's a path that they want, making sure we build them to be that and give them every avenue, and any and everything that they can to make sure that's accomplished. You always want to be that role model, especially when you know someone wants to do the same thing that you're doing, hoping you have that positive impact."
Brien Edwards can be reached at brien.erick.edwards@temple.edu or on Twitter @BErick1123.