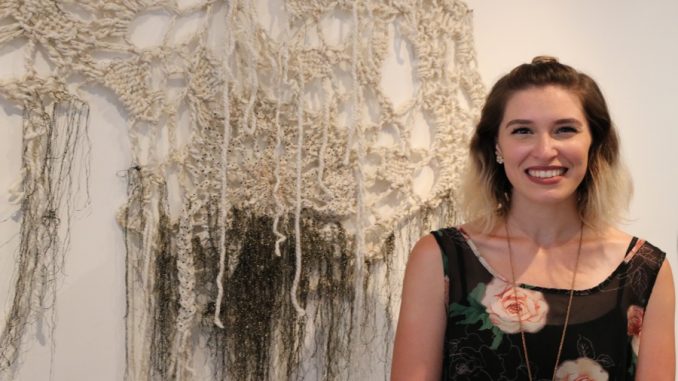 Carly Reed Scott's love of fabric began at her grandmother's fingertips.
"My grandmother was always making things with her hands," said Reed Scott, a 2016 fibers and material studies alumna. She remembers looking forward to hand-made slippers for Christmas and blankets or quilts to mark each of her birthdays.
Reed Scott said she's fascinated by the power of memory that fabric holds.
"If you think about it, you're around fabric from the moment you're born until the moment you die," she said. "There's such a memory that fabric has. A certain texture or stitch or the way that something is sewn can bring you back to a place or feeling or person."
Reed Scott is one of 11 artists featured in "Hard Times in the Soft World," a sculpture and textile exhibit at Giovinetti Studios, a new gallery in South Philadelphia. The exhibit opened on July 6 and will run until the end of the month.
The show's curator, Idella Spann, 31, co-owns the gallery with Jack Giovinetti. She said they used the opportunity to highlight work by artists "who normally go unseen."
Spann, an illustrator, has been in Philadelphia since 2007, and said that it can be hard to break into the city's art scene if you don't have connections. She and Giovinetti want the gallery, which opened on June 1, to be a space that welcomes and celebrates "outsider, lowbrow, and other forms of contemporary art."
Reed Scott primarily uses fabric and soft materials to create textile paintings. She feels a deep connection to the long and complex history of women working with textiles.
"Being a woman and being an artist and working with material that isn't necessarily considered fine art has its own history too. All of that struggle and history makes my connection to this medium even stronger," she said.
Through her pieces, she often explores mental health issues like anxiety and accompanying symptoms like restlessness.
Hours before the exhibit, she reflected on the impact her work might have on someone at the show.
"I spend all this time making these pieces primarily for myself and to get my own truth out there," said Reed Scott, who turned to crocheting to help deal with her own anxiety. "If I can go tonight and connect with one person and can be part of creating a space where it's okay to talk about having panic attacks or anything related to mental health, that would be awesome."
"'Hard Times in the Soft World' is a reflection on the chaos and uncertainty of our current times", Spann said.
"Contrary to popular opinion, I think the world is a soft, gentle place, not nearly as hard as we sometimes perceive it to be," she said. "But right now, literally no matter who you are, whether you're at the top or the bottom, we all seem to be having a really hard time. Things aren't entirely hopeless, but everything feels draining."
Reed Scott used an idea that came to her years ago to further explore an internal chaos familiar to many: anxiety.
"Sometimes, when you're struggling with a mental illness, you want to be able to remove yourself from it, and see it as something very separate from who you are as a person," she said. "I started playing around the idea of an anxiety creature, and illustrating it in my work as an infection, something that is introduced to your system and just takes over."
"In It," a four/by-five foot distressed crochet doily, served as as the centerpiece for Reed Scott's five-piece display in the exhibit.
The bunches of black-and-gold speckled thread in the center of the piece coupled with the tiny beads — the latter of which are a feature in all 5 pieces — illustrate "how parasitic anxiety can be, how it latches on to you and drains you," she explained. The beads represent little eggs, vessels through which anxious energy is born.
Clusters of stained glass pieces, tiny knitted creatures and feather installations hang on the walls around Reed Scott's textile paintings, with detailed beeswax sculptures and colorful meditation mats positioned around them.
Like Reed Scott, Freeda Peoples, who also works with fabric, finds solace in making art with her hands. Peoples, 38, said that creating meditation mats has helped her work through trauma she's experienced, including the healing and therapy processes.
Peoples finished "Witch's Tit", one of the pieces for the show, just the night before. She made the small black and yellow mat with little scraps of fabric from a witch's halloween costume she had when she was 5.
"My whole life everybody thought I was a witch," Peoples said. I always thought it was a bad thing, until I realized that witches are healers. The process of creating this mat helped me take that power back and learn to make magic out of mayhem."
For Reed Scott, this exhibit wasn't just an opportunity to display her work.
"Art has the ability to unite people around shared experiences," she said. "The whole idea behind this show was connectivity and bringing people together, and that's what drew me in in the first place."
CORRECTION: A previous version of this story misreported Idella Spann's age. She is 31.