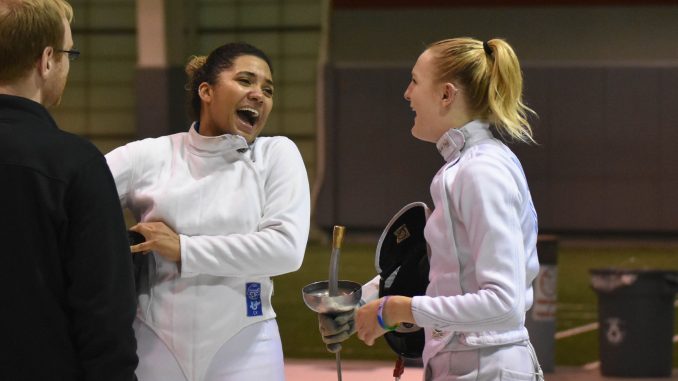 A few times per year, Washington Fencing Academy coach Kevin Mar told his fencers a "VIP" would join them in training.
Marielle Luke, a former fencer on the club team, took a three-hour plane ride from her home in Anchorage, Alaska, to Seattle and rode in a car for an hour to make these trips to practice in Issaquah, Washington. The freshman epee would stay for either a week or a weekend and tried to make the most of each trip, she said.
"Our girls would get pumped to see Marielle come in because she won local and national tournaments," Mar said. "It was somewhat of a special occasion every time she made the trip down."
Fencing is not a popular sport in Alaska, Luke said, and clubs in the state are for more recreational fencing. Luke first took lessons at her local YMCA at age 12.
"This sport looked different and interesting to me," Luke said. "That is something that pulled me in from the start. It makes it even better I get to carry it into college."
To start her Division I career, Luke placed 14th out of 79 competitors at the Temple Open on Oct. 28 and finished 23rd out of 36 in the epee bouts at the Garret Penn State Open on Nov. 4.
"She picks up technique really well and is a good listener," coach Nikki Franke said. "Pair that with her natural work ethic, and she can form into a very good fencer. When I saw the opportunity to bring Marielle on board, I was excited."
Luke's first coach in Anchorage, Alaska, was Wayne Johnson, who made the 1976 and 1980 Olympic teams but didn't get to compete in either. After Johnson moved to Arizona, she had to find a different coach.
"I knew when I could be good at this sport, so I had to look out of state to continue my career," she said. "I was afraid we might have had to move for this to happen, but everything has worked out so far in my fencing career."
Luke reached out to Mar five years ago and asked if she could receive "unconventional coaching" to help her reach the college level.
Twice a week, Luke went to the Anchorage Fencing Club and had her mother record bouts against practice coach Jacquie Parker. They sent the footage to Mar to analyze together over Skype.
Mar had given lessons like this to fencers from California and Tennessee, but Luke was the first fencer Mar tutored like that for an extended period of time, he said.
Fencers usually want guidance for only one or two tournaments, Mar said. He saw Luke's talent on the first video she sent him and wanted to help her, he added.
Mar and Franke said Luke has an "amazing work ethic." Mar doesn't think a lot of fencers could learn how Luke did before college.
"She had one goal in mind, and it wasn't the easiest goal to achieve," Mar said. "She was very studious toward this sport and you can see that when she performs."
Luke said she gets her work ethic from her mother, who works two jobs to support her.
"I was lucky she could help me this much," Luke said. "The support I received from her financially and emotionally will always be pushing me even if she is in Alaska."
Luke found "the best of both worlds" by coming to Temple, which finished last season tied for eighth in the CollegeFencing360.com coaches' poll and allows her to major in communication studies with a focus in public relations.
"I love it here," Luke said. "Fencing has taken me to some really nice places. Now it led me to a great school, and I could not be more grateful."